Alejandro Aires is a young Uruguayan who one day discovered his passion for software testing. He started as a functional tester and then decided to turn from functional testing to performance testing services. Today we tell you all about his journey, with answers for anybody who is starting their career in testing and is evaluating different possibilities for their professional future.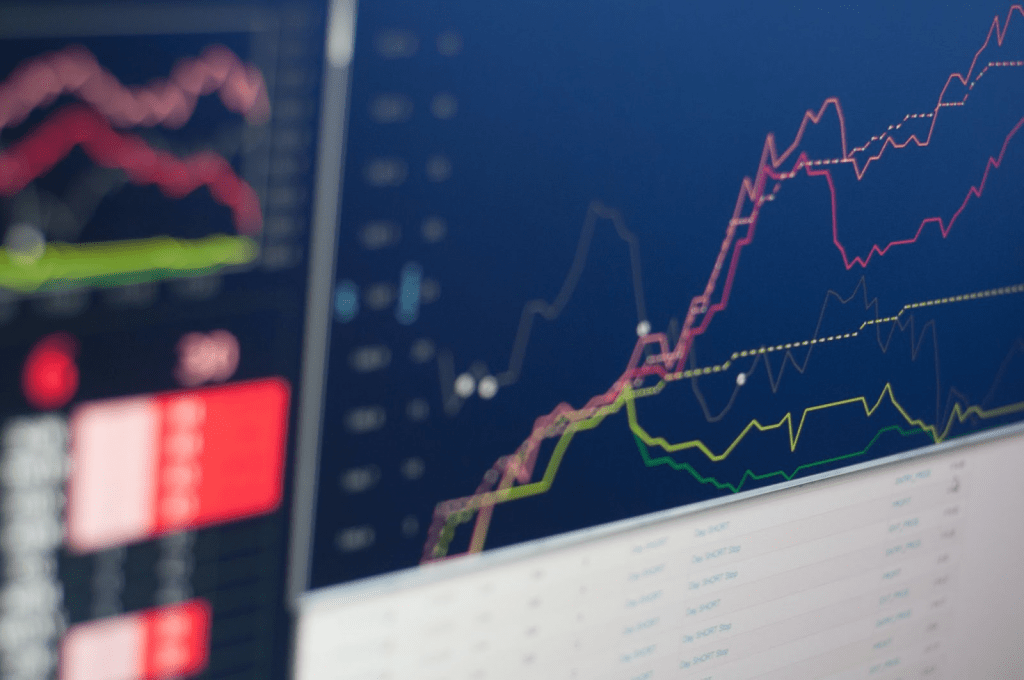 Many testers start their career in functional testing services, which is dedicated to verifying that a system and its functionalities work correctly. Alejandro's career path began that way, but he soon decided to dive into non-functional testing, specifically performance testing services.
To learn more about the differences between functional and non-functional testing, we recommend you read this article.
Today we will focus on part of Alejandro's trajectory, who today is part of Abstracta's performance team and is growing as a professional in the area. 
Why focus on someone who is still learning and not on someone who is at a very high point in their career? 
First of all, it is important to clarify that we are always in a continuous learning process; there is no peak for knowledge. On the other hand, we believe that all stories matter, and sometimes people who are just starting their careers can't relate to those who already have a lot of experience, because they still feel far away from those realities. 
Talking about the journey of effort and dedication of a growing junior tester, with the value of his voice and his contributions, can be very useful for countless testers who are starting their journeys and making definitions.
"The performance testing services area contains much technical content, especially in programming, architectures, and infrastructures, which is different from functional testing services. Therefore, if you start in performance, I consider it very important to have a technical referent or a team that can support you in all these aspects to grow," said Alejandro Aires. 
"Luckily, I had the support of the entire Abstracta Performance team to take my first steps," he added.
Although there are many branches of testing in which a tester can specialize in order to grow in their career, there is no doubt that learning aspects of this area can be very enriching. Although much of the technical knowledge acquired in performance can be acquired in other ways.  
Alejandro outlined that "the knowledge that is acquired along with the experiences that are generated in this area is very useful to take it to other areas and think about things from different perspectives." 
"In my particular case, when I worked as a functional tester I didn't know how to work with white box testing, I didn't know how to test an API. When I started to offer performance testing services, I started to use tools designed for API testing. If I were to go back to functional testing services today, this would represent a very important advance in the work I am able to do," he explained.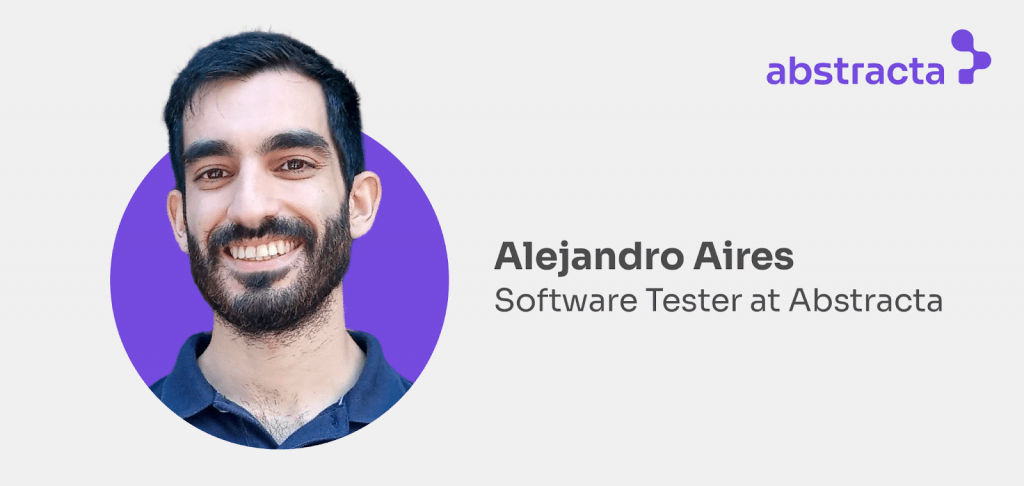 How was your path from functional tester to performance tester?
Before joining Abstracta, I worked for a year and a half as a functional tester in a company where I mainly did black-box testing with an exploratory approach. I didn't interact with any code or internal system structure. At the same time, I was studying Telecommunication Engineering and taking technical courses related to the networking area, so I had some basis to get into performance. 
I joined Abstracta in January 2022 as a junior functional tester, but given my profile the first day they proposed I help in the performance team, a decision I took and I don't regret it. Since then, I have worked on different projects, in stages of planning, automation, execution, and more. Little by little I am growing and today I work full-time as a junior advanced performance tester.
– Was it a difficult decision to specialize in performance testing services? 
The truth is that I was afraid, I didn't know anything about this world and I considered it as something very difficult to do. I think that this is very common among those who don't know the area. With time, I was able to realize that I was capable of doing it. It was not as difficult as I had imagined. Many times we think that something is difficult just because we don't know how to do it and because we don't know ourselves in that area, and we are afraid of what we don't know. But that's what it's all about, learning. 
– What places do you recommend to study performance testing?
I took courses on the Abstracta Academy platform and I recommend them every time I have the opportunity because they are very complete courses, with activities and theoretical material that are extremely useful for growth in testing. I take this opportunity to mention that this platform has many more courses, not only related to performance. On the other hand, today I use Blazemeter University to continue training in the area. In addition to these spaces, I recommend self-study, since today there are a lot of online resources for both the initial stages of the career as well as for more advanced stages.
– What is the main challenge when it comes to performance testing services if you start with functional testing services?
There are many specific things, at a technical level, to learn in order to do a good job. Here I want to emphasize the importance of having people rely on a technical referent and a well-disposed and experienced team. It is important to be in constant training and to have good learning platforms. 
– What do you like most about functional testing and what about performance? 
Functional testing teaches you a lot of different ways of thinking about different problems, different domains, and businesses, you always learn something new. In performance, something similar happens but from the technical side, which is what caught my attention the most: you are constantly learning new technologies, protocols, infrastructures, and tools, among other things.
It is common, especially when we are just starting in performance, to focus on the strictly technical, automation, or low-level things and lose sight of the ultimate goal. Something good that I observe from those who come from functional testing services like me is that in general, we are more aware of the overall quality of the product and the ultimate goal of testing it. 
– What are your future plans to continue growing professionally in performance testing services?
Currently, I'm in the middle of my Telecommunication Engineering degree, but I've been curious about Computer Engineering since I started testing. Anyway, I recognize that for the performance area, I found the knowledge of telecommunications very useful. I think it is very important to keep up to date with new technologies, so I am planning to take courses on this subject. 
– What would you recommend to evaluate someone who is deciding whether or not to go into performance testing?
To perform performance testing, it is necessary to have knowledge of different things. You don't have to be an expert in networks or protocols, but you do need to have an understanding of all of them, the same with servers, operating systems, etc. Still, you can learn along the way and with practice. 
Automation is also used quite a lot, but you don't need to be an expert in it either since there are "low code" tools, such as JMeter, in which you generally don't need to know how to program. Most of the automation is done from a user interface. These tools are easy to use because of their interface and are highly recommended to get started. My suggestion is that if all of the above caught your attention, you probably like the performance area. 
In general, it is a bit scary to enter a world that you don't know much about, but once inside it is very rewarding all that you learn and even more if you have a referent in the area to guide you. My suggestion before deciding is to contact someone who knows about performance testing services and get all your doubts out of the way. If I had to choose now, I would choose performance again, because it is an area in which you are constantly learning and living new experiences.
Would you like to go deeper into the world of performance testing? We recommend our courses at Abstracta Academy.
Don't miss WOPR29! It will be held in Montevideo, Uruguay, December 6-8, 2022. Intended for between 20 and 25 professionals, this is a prestigious global event that seeks to deepen the knowledge of performance testing, with experts from around the world. 
Would you like to join WOPR29? Find all the details and apply here. 
If you are interested in this topic, we recommend you to read all the articles of our saga "Performance Testing In-Depth", which we inaugurated for the advent of WOPR29. 
Very soon we will publish a new article with the opinion of Alejandro Aires, in which he will tell us all about his personal journey from functional testing services to Performance, to learn more about the different possible paths.
Follow us on Linkedin & Twitter to be part of our community!
Tags In
Related Posts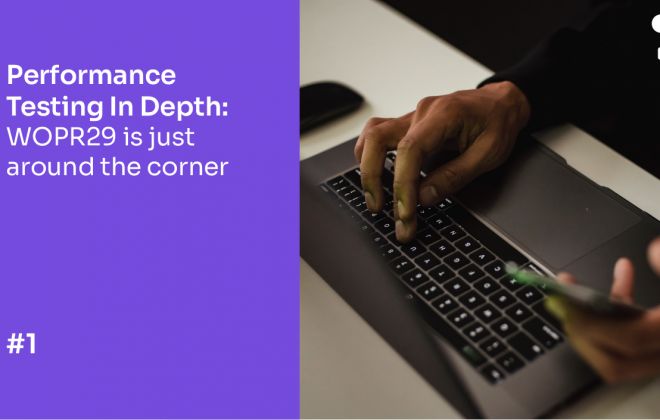 Hosted by Abstracta, WOPR29 is just around the corner
How was WOPR29's theme chosen and why is it being hosted by Abstracta in Uruguay? Find out in this article, featuring Paul Holland, Andy Hohenner, Eric Proegler, and Federico Toledo. Many articles are coming up in this new saga called "Performance Testing In-Depth", with interviews…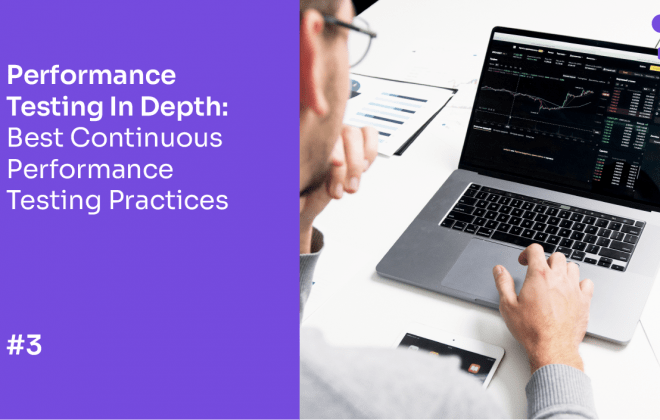 Best Continuous Performance Testing Practices
What practices are relevant in continuous performance testing today? We talked about this with an expert panel made up of Roger Abelenda, Andréi Guchin, Sofia Palamarchuk, Paul Holland, Andy Hohenner, and Eric Proegler. Two important Software Testing conferences will take place in Uruguay next December,…
Search
Categories
Read the Ultimate Guide to Continuous Testing