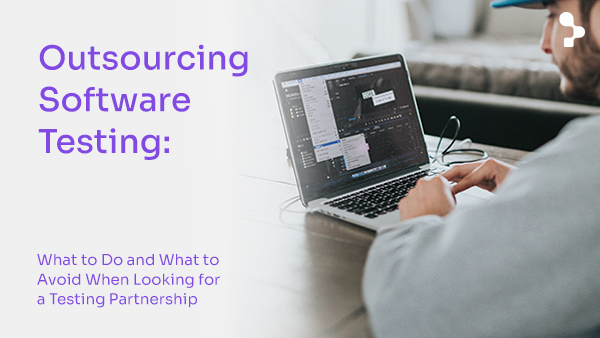 Outsourcing Software Testing: What to Do and What to Avoid When Looking for a Testing Partnership
Finding the ideal outsourcing partner for your business can be a complicated task. Here are some key do's and don'ts that will help you pick the right testing company for you.
Outsourcing software testing has become a common and effective solution for many organizations that want to focus on development and other foundational processes. Our extensive experience in the industry as software testing outsourcing partners has shown us that putting testing practices in the hands of dedicated experts is the best way to maximize resources toward creating high quality and competitive products.
The benefits offered by this approach are countless. From optimizing testing time and costs, to expanding in-house resources by working with highly skilled testing professionals, outsourcing your testing needs can be a great strategy to add new outside perspectives, implement better practices to your projects, and improve the overall quality of your software.
However, finding an experienced testing company that perfectly fits the unique needs of your business can be an overwhelming task. In this article, we will walk you through the main do's and don'ts that should be kept in mind before embarking on the task of finding the right software testing partner for your organization.
Best Practices for Choosing the Right Outsourcing Partner
Define Your Outsourcing Goals
The very first step in the process of outsourcing is to know your own goals and the type of relationship you want to have with your testing partner. You can ask yourself questions such as: What are the qualities I'm looking for in a testing company? What type of services and engagement am I expecting from them? Are rates a determining factor? Knowing the answers to these questions will make your search simpler and more effective, allowing you to identify which companies suit your preferences and objectives best.
Make Sure Your Chosen Partner Has Extensive Industry Experience
Working with software testers that don't have enough experience and technical skills, and don't work with your preferred testing tools can bring some important drawbacks to the testing process. In order to verify that your future team has both knowledge and expertise, especially in your industry, it's always a good idea to conduct a thorough research of the company's portfolio, including previous clients, testing infrastructure, documentation standards, and most importantly customer testimonials.
You can look for ratings and reviews on the company's own website, and on highly reliable third-party review sites such as Clutch.co and GoodFirms. These websites take the time to manually verify reviews before publishing them, offering legitimate and trustworthy information.
Although you may not find a company that ticks absolutely all your boxes, the more your partner understands the specifics of your industry and product, the more successful the testing processes and the overall partnership will be.
Assign Small Projects First
Getting to know your partner's work style and culture, adapting to differences in language and time zones, and establishing regular channels of communication is not an instant process. During this initial period, it's recommended to implement an incremental approach in which you assign your remote team with non-critical projects at first. This will allow you to assess your partner on factors such as the quality of testing and documentation, tools and techniques implemented, and management style. Once you start gaining confidence in your partner's abilities and responsiveness, you can provide them with bigger and more complex projects.
Common Pitfalls and How to Avoid Them
Overlooking Cultural Differences
Addressing cultural differences is a must when outsourcing your testing to a partner located in another country across different time zones. Early recognition of differences in communication styles, delivery times, conflict resolution tactics and time management, can have a huge positive impact on your partnership. On the other hand, disregarding these factors can lead to misunderstandings and a lack of communication that can negatively impact not only your project's timeline, but the overall quality of your partnership too.
However, there are plenty of ways to overcome these differences and enjoy the benefits of having cultural diversity in your team. As with any other partnership, teamwork is required, and the effort of both parties working together to bridge cultural gaps is crucial. It's important to establish shared goals and expectations that will unlock successful testing practices.
Don't Get Carried Away by Lower Rates
One of the biggest mistakes made when outsourcing software testing is to fall for the lowest price on the market. However, it's important to keep in mind that the lowest rates don't equal the lowest final total cost. Most of the time, low prices come with huge downsides such as unskilled testers that are unfamiliar with the technologies required for your project, or poor English language proficiency, which can lead to miscommunication and delays in the testing process. It's much more effective to work with a small team of experts that have extensive experience in your industry than having a big pool of inexperienced testers that won't engage and commit to your project.
Don't Turn a Blind Eye on Security
Handling sensitive data such as source code, workflows, and customer data to an external team will always raise security concerns, but these risks can be minimized if you take the necessary precautions. Finding a testing partner that recognizes the importance of security, and has all the needed protocols in place to keep your data and product safe, is one of the most crucial aspects to take into consideration when searching for a testing company.
Trustworthy software testing companies should be able to demonstrate the correct implementation of security systems such as reliable intrusion detection, malware protection and data loss prevention software, and extensive experience signing non-disclosure and ownership agreements with previous clients.
Do You Want to Know More?
The tips and best practices listed above are just the tip of the iceberg when it comes to outsourcing your software testing. Any partnership of this kind is going to take time to consolidate, but once teams are seamlessly integrated and working smoothly, the advantages of outsourcing are endless.
If you are interested in deepening your knowledge about software testing outsourcing we recommend you read this article on how to start a relationship with a software testing partner, written by our Chief Sales Officer Lucia Lavagna.
For more information on our testing services, you can learn more about our solutions or take a look at our portfolio. If you have any questions don't hesitate to contact us, our team would be glad to assist you!