Abstracta Academy allows developers and testers to rapidly add performance testing skills on JMeter and BlazeMeter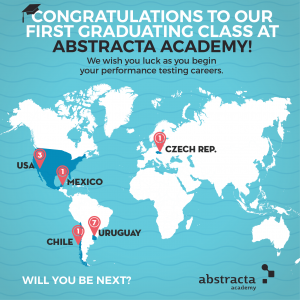 From all of us instructors at Abstracta Academy to those who have already taken the course, congratulations and thank you for choosing us!
Redwood City and Palo Alto, California, April 27, 2016 — Abstracta, a world leader in quality assurance and testing, launched a new performance testing training and certification program featuring the BlazeMeter Performance Engineering Platform. The first group of students completed their four-week training this week, culminating in a certification in JMeter and BlazeMeter. The course saw a diverse enrollment of testers and developers from the Czech Republic, Chile, Mexico, Uruguay, and the United States.
"Abstracta Academy does an excellent job in breaking down the mystery and complexity surrounding performance testing," said Channing Luden, a student from the first Abstracta Academy. "Their course on performance testing with JMeter provides a great entry point for testing professionals looking to start their journey into the performance testing world. The course mixes in-depth video tutorials with detailed lesson plans that anyone, even someone unfamiliar with JMeter or performance testing, could follow. This course was one of the more enjoyable learning experiences I've had during my professional career. Abstracta Academy professors are responsive, helpful, and knowledgeable. I seriously recommend this course to anyone looking for an introduction to JMeter and performance testing."
The course incorporates a mix of personalized sessions from expert speakers, supported by multimedia, live chat access to course instructors and online exercises to make testing engaging and entertaining.  Each brief, typically 1-4 minute segment is focused on a single topic along a developer's learning path, allowing novice testers to make progress in a short period of time. The inaugural course completed with a 100 percent recommendation rate, and 85 percent of attendees gave it 5/5 stars.
"I'm very proud of the students we had in this first edition of our certification in JMeter and BlazeMeter," said Ph.D. Federico Toledo, Director at Abstracta Academy. "Not only did they finish their assignments on time and with high quality, but they also actively participated in the forum, helped each other, shared tools and tips, making the entire learning process something that is part of a learning community. I'm proud to be a part of a course with a high-quality product, combined with the passion and effort to educate a new generation of testers on the importance of planning and creating performance tests. Students learned how to generate HTTP/S traffic at the protocol layer that is representative of the real browser sessions the performance test is modeling. Having the BlazeMeter platform available, with its 100% compatible with JMeter design, made designing a comprehensive course from the ground up to full-scale testing possible."
"As the interest in performance testing continues to rise, so does the need to develop coursework and training that empowers developers and functional testers to get started," said Dave Karow, Director of Product Marketing, BlazeMeter. "We're excited to support Abstracta Academy because it provides an engaging and productive window into what performance testing is all about. We believe that anyone looking to add performance testing skills to their repertoire will find great value from taking this course."
Students can enroll in the course and start learning at any time, finishing within four weeks, moving through the material at their own pace. The course fee is $250. Visit the course page or information about the curriculum, instructors, special offers, and more. 
About Abstracta
Abstracta is a world leader in quality assurance and testing focused on improving the performance of software applications. With offices in Latin America and Silicon Valley, Abstracta has over 50 years of combined experience working not only with leading-edge proprietary and open source testing tools, but developing specialized tools for financial, retail and technology including companies such as Verifone, BBVA financial group, GeneXus software and the largest retail bookseller in the United States.
To learn more about our products and services, visit abstracta.us. For testing articles and tips, visit our blog or follow us on Twitter and Linkedin.
About BlazeMeter
BlazeMeter ensures delivery of high-performance software by enabling DevOps teams to quickly and easily run open-source based performance tests against any mobile app, website or API at massive scale to validate performance at every stage of software delivery. The rapidly growing BlazeMeter community has over 100,000 developers and includes prominent global brands such as Adobe, Atlassian, Gap, NBC Universal, Pfizer and Walmart as customers. Founded in 2011, the company is headquartered in Palo Alto, California with Research & Development in Tel Aviv, Israel.
For more information, create your free account at blazemeter.com.
Contacts:
Abstracta
Kalei White
[email protected]
(408) 757-0005
BlazeMeter
Adam Novak
PAN Communications
617-502-4300
[email protected]
Related Posts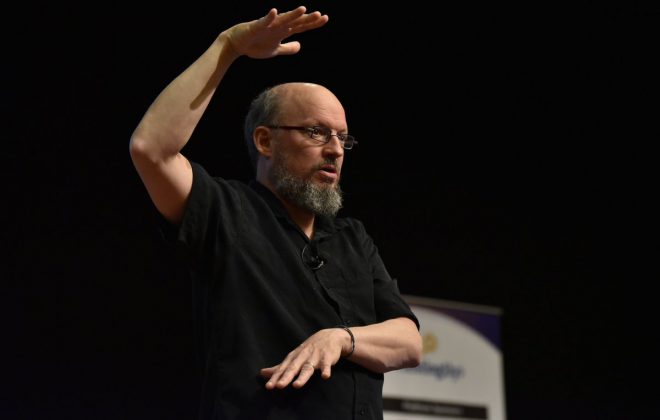 TestingUY 2017 with Michael Bolton, a Week of Pure Testing
A recap of the week of the fourth edition of TestingUY If I could describe last week in one word, it would be intense. With TestingUY on Monday and Tuesday, the Rapid Software Testing course Wednesday through Friday by our keynote speaker, Michael Bolton (internationally…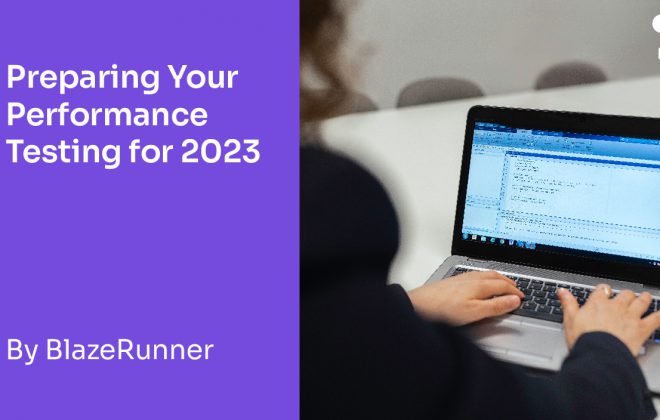 Preparing Your Performance Testing for 2023: 5 Challenges and Solutions
The technological and digital transformation boom of 2022 encouraged enterprises and startups to accelerate their development velocity. Consumers demanded more applications within shorter timeframes and of higher quality. What are the performance testing challenges for 2023? Find out everything in this BlazeRunner article. By Sesha…
Search
Categories
Read the Ultimate Guide to Continuous Testing