What are OKRs in business? Why is it relevant for Abstracta to make them transparent? Which are our major 2022 objectives? Find out everything in this article.

Abstracta is like a complex set of gears, in which each piece is fundamental for the whole organization to keep turning. Regardless of the role or seniority level, the individual contribution of each team member is essential to achieve our collective purpose and aspirations.

In this context, the well-known Objectives and Key Results (OKRs) take the center stage. Understanding what OKRs are in business and the importance of implementing them is fundamental to ensure that these gears work optimally.

According to Iebschool, "an OKR is a work management methodology that aims to facilitate the objectives set by a company by quantitatively and qualitatively measuring the progress of teams". It is a measurement system that allows progress to be quantified and is used both by startups that aspire to grow and by technology giants such as Intel and Google.

Having OKRS and making them visible allows us to strengthen our organizational structure, makes our processes and objectives transparent as a company, and work collaboratively in the same direction.

Understanding what OKRs are and knowing which ones specifically lead us at Abstracta facilitates focus and precise work. In addition, it allows us to have more clarity about where we are headed, and to choose our priorities more wisely.

In turn, it increases our level of commitment and sense of belonging, and helps us create stronger and more robust support developing our internal network.

In 2021 we investigated what are OKRs in business and implemented their methodology to define the company's objectives and key results collectively aligned with an agile culture. In this article, we tell you what our main objectives are for 2022.

Long term goals
At Abstracta we have 5 major objectives that endure over time. Back in 2008, a small group of college friends was set out to create a company. Our dream became a reality thanks to organized work and mutual commitment.

Little by little, we grew, based on the trust of our team and our clients. Over time, we managed to establish ourselves as a global, sustainable, and scalable company, leader in software testing worldwide.

Today we know that the greatest strength of our company lies in organization, humanistic culture, and trust. Therefore, first and foremost we share our aspirational goals.
1️⃣ To be a thriving, global and sustainable company: we want to scale with a local presence in different countries on different continents.

2️⃣ Develop local communities: in each place where we are, we consider ourselves part of the community, with great transformative possibilities. We take this opportunity with responsibility to support local development and improve people's quality of life.

3️⃣ To be leaders in different areas of knowledge: in each area we work, we seek to do so in an innovative way, experimenting, sharing experiences and building on them.

4️⃣ Building a strong and generous culture that represents us around the world: we promote a culture we believe in. It is our cornerstone, the foundation on which we build to achieve all our goals.

5️⃣ To be recognized as a brand that brings trust and quality to our customers. We honor the opportunity our customers give us to add value, and we seek to be their partners in quality to co-create world-class software together.
OKRs 2022
Year by year we set new goals based on these major objectives. OKRs 2022 are the fruit of the 2021 strategic review process.

At Abstracta we want to help our customers to make high-quality software in a quick manner, and to be successful in their endeavors. All of this without ever leaving aside our main objectives: to contribute in the development of the community and to improve people's quality of life.

We know that the impact of software testing can be truly immense. We are keenly aware of the crucial role testers play in today's technology-mediated society. That's why we are looking at our global objectives as well as our specific ones as a team and in detail.

In 2022, we plan to continue to grow as a quality local partner in the United States. We aim to increase our reach and exponentiate our impact on communities.

Here is a brief summary of our OKR 2022:
1️⃣Increase our positioning in the USA.

✔️Increase our growth level from 20% to 30%. We seek to grow in order to have an impact on people and improve their quality of life through excellent job opportunities.

✔️Launch ReconverTIte and UpCamp. The first one oriented to reconvert people (women in general) in need towards programming and testing. The second is a spinoff of Abstracta that offers first quality work experiences to qualified people interested in the IT universe.

✔️ Strengthen and expand our partnership plan, generating more and better alliances with the main "players" in infrastructure and global testing tools.
2️⃣Bring IT industry opportunities to the places where they are most needed.

✔️Implement ReconverTIte to other places in the interior of Uruguay and for the first time to Chile and the United States. We want to expand the scope of this initiative to encourage more people to reconvert to the labor market.

✔️Provide 550 free trainings by Abstracta Academy, 22% more than in 2021. All people who work at Abstracta, their families and those who have been part of the team for at least 1 year will have access. We generate alliances with prominent social actors, to bring these opportunities to different groups that do not have access to this type of opportunities.

✔️ Offer 100 first IT job opportunities through UpCamp, thus quintupling the impact generated in 2021.

We are convinced that people without experience have a tremendous amount to contribute, great drive and new perspectives. Many times they are denied access to the work environment due to lack of experience, thus drawing a circle that is difficult to change. At Abstracta it is very important to open up the gates, to include more people in the industry.

3️⃣ Impact the way quality software is made by bringing performance testing closer to developers. JMeter Java DSL allows Java developers to do performance testing in their development environment (shift left).

This is an open-source tool created by Abstracta that aims to bring performance testing closer to developers. We think it can make a big difference in the creation of better software and that's why we want to promote it.

4️⃣Strengthening the Abstracta's culture in the hybrid era without losing the essence: providing development opportunities that foster equity and diversity to promote people's mental health.
✔️Achieving a 90% score in the category of "perceive their individual contributions as important" from our team working at Abstracta. In the last Great Place to Work survey, we were ranked among the TOP 10 best companies to work for in Uruguay. The results were very useful to know what our strengths are and where we need to improve.

78% was the lowest score we obtained in a specific category. It was in the section "Personal work", which measures how employees perceive their individual contributions to the organization.

This mobilizes us and shows us an opportunity for improvement. We want to take it from 78% to 90% this year, and then continue to increase it. We want to promote and sustain a space in which all people can contribute from their individual skills and deploy their potential, with a view to our collective purposes.

To achieve this, we propose a readaptation to a hybrid way of working, with a special focus on aspects such as diversity, equity, mental health, and opportunities.

5️⃣In-depth knowledge of each of our clients' businesses.

We are convinced that strengthening ties and getting to know each area of our client's businesses in depth is essential to make better decisions and help them successfully meet their objectives.

With this in mind, we plan to conduct detailed reviews and establish OKRs for each of our teams, for all clients. At Abstracta, we like to build long-term relationships in which we are considered a true quality partner and a key link in your success.

In this path of improvement, at the end of 2021 we promoted a new organizational structure for Abstracta's operations, which consists of a model based on Hubs. So that everyone can make contributions in different areas.

We are a totally open-door space. We try to grow constantly, always ready to innovate and make the necessary changes. We have been building our culture among all of us, and that is what we can define as abstract culture.

What are OKRs in business for you?  h Do you have any experience you would like to share with us? Write to me at [email protected] and let's talk about it!

Follow us on Linkedin, Twitter, Instagram, and Facebook to be part of our community!
Related Posts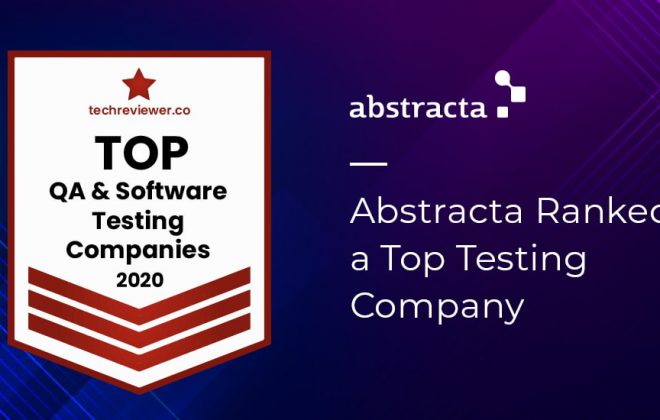 Abstracta Ranked as a Top QA & Software Testing Company on TechReviewer
According to CompTIA, there are more than 525,000 software and IT services companies in the United States (approximately 40,500 tech startups were established in 2018 alone). It was fantastic news then, when we learned that Abstracta has been ranked as a top provider in our particular area of…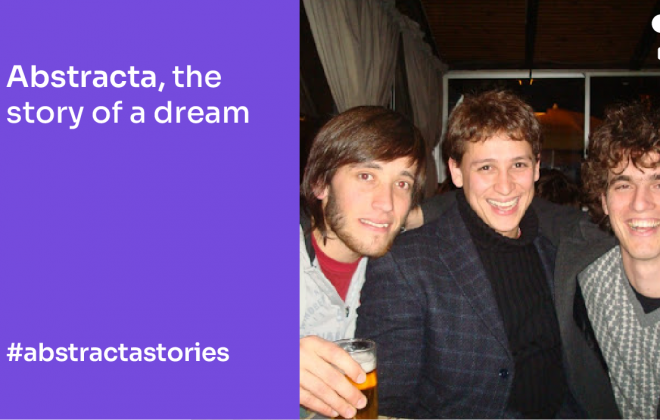 Abstracta, the story of a dream
It's Abstractas' 14th anniversary and we decided to unveil its story. Abstracta is faithful evidence of how education is capable of hacking the system and turning the dreams of 3 students into reality. The outcome? The increase in the quality of life of those who…
Search
Categories
Read the Ultimate Guide to Continuous Testing