At Abstracta we believe it is crucial to compromise spaces for meeting, bond-building, and collective work, to be able to express the values and aspirations of the company. . We seek constant development and growth, always with a focus on the well-being of our community.
By Natalie Rodgers
"Good architecture is open to life, open to enhance anyone's freedom, where anyone can do what they need to do. It should not be demonstrative or imposing, but it should be something familiar, useful and beautiful, with the ability to quietly sustain the life that will take place inside." This wise phrase was pronounced by Anne Lacaton, distinguished with the Pritzker Prize by the Hyatt Foundation in 2021, the highest award in world architecture.
Undoubtedly, Abstracta's office contemplates these meaningful premises. Architect Valentina Moro was in charge of the project.
It was 2019, and Abstracta was in full growth, planning to double the number of people working in the company. To make that possible, more space was needed, as well as a custom-made design. 
During the pandemic, the rules changed drastically. "If Work From Home used to be a possibility for collaborators in the IT industry, the pandemic radicalized it, and the argument of needing more space became a little weak," Valentina said. So much so that the company now has almost three times as many people working there, and there is plenty of space in the office during the week. 
"The interesting thing is that now they are proud and comfortable, something that didn't happen before. We can conclude that being able to identify with the space was more important than adding new workstations, enjoying the general meeting events, and having the support to do so with Abstracta's essence.
Vera Babat, Chief Culture Officer, said:: "Valentina was able to dream with us and interpret our needs with a special sensitivity. Thanks to that, today we have spaces for work coexistence, sectors for personal use such as cabins, and collaborative spaces for integration purposes, oriented to work and/or team consolidation."
Architecture With Abstracta's Essence
Architecture is a science and also an art, which reflects and expresses the culture of those who inhabit the spaces, their behavior, their links, and social dynamics. It is a materialization capable of transforming realities, of limiting or expanding freedoms, but especially of adapting spaces to different scenarios, according to the needs of society. 
"The architectural project is always an idea that transforms the space that contains it, in the concrete but also in the abstract. The space is capable of transforming the experience, and enriching it or not according to the decisions of the project," Valentina explained.
It is, in a way, a transversal look at architecture, with the idea that it can impact in different directions. "When you start a project, you are working with a subject that is unique, traversed by history and genealogy that determine unique ways of inhabiting. The more of these details that are translated into the space, the more successful the proposed experience will be," she outlined.
"It is pure phenomenology, what evokes and reminds us of happy moments or experiences from our past connects us with a high state of vibration, and allows us to enjoy the experience more," she remarked.
With this in mind, Abstracta decided to rent a new space and remodel it specifically for its needs. They wanted not only to achieve greater comfort, but also to reflect identity and community, and to help continue building a sense of belonging. 
We spoke with Valentina to get an in-depth understanding of what's behind the beautiful Abstracta office.
– How were you able to address the needs and reflect the values of Abstracta through the architecture?
We asked for a list of all the projects the company was working on and how many people were working on each of them, as well as how many were permanent employees per project or department. This helped us to order and organize the space, defending the meters of the meeting rooms and meeting spaces. 
We created 3 meeting rooms with details that make them warmer than the classic modern offices because they take advantage of the original wood of the house. We took advantage of the wide corridors to install benches-crevices, places to sit and have a short meeting between cushions and blankets, or to sit sunbathing through the window at the back.
We turned the garage into a meeting room with bleachers, the barbecue is a dining room, and a small auditorium at the same time. The kitchen is a laboratory to enjoy meals organized by the team and at the same time a small dining room. The courtyard is a square with beautiful vegetation, an adult "Palo Borracho" that blooms in pink, and specially selected plants that create a calm atmosphere with their colors and aromas.
– What is the importance of understanding a client's needs in context when carrying out an architectural project?
Crucial! It is from there that the possibility of understanding each other and decoding the needs arises. Several meetings are necessary for which we attend to more subtle aspects that are key to synchronizing and making sense. This is even more accentuated when it is a custom project, for a specific client with a specific need, such as in Abstracta's case.
– Do you consider that materiality is transversal to achieve the desired 'look&feel'?
Yes, when you connect with sensitive aspects, you work with the materials exploiting all their potential. Variables such as temperature, color, textures, compatibility or contrast between them, stylistic harmony, and more come into play. At times, we have found ourselves educating clients to experiment with new materialities, or not so new but in singular ways. When this works, it is sublime for everyone, usually because these are more sustainable solutions. 
In the case of Abstracta, once we find ourselves in a common "culture," we move forward. We sought to materialize in harmony with the pre-existence of the house. The conservation and use of wood were fundamental to achieving the desired sensations.
We focused on the materiality and design of the furniture. We used whiteboards to generate a spontaneous meeting and gathering place around the workstations, as a surface that adds brightness to the rest where wood predominates. The meeting benches, the meeting up room platforms, the booths, and the stand-up desks are all devices that solve possible meeting situations, and are materialized with eucalyptus boards with a lacquer that softens, contrasts, and makes an extraordinary contribution to the warmth of the material. 
– What other aspects have been fundamental in conveying the 'look&feel' sought by the company?
It was very important to get to know the company's previous headquarters and the way they lived there, to make a diagnosis of what worked and what didn't in relation to the way they used the space. The transfer of Vera Babat, as spokesperson, was fundamental. We have a long-standing relationship and that helps in understanding, especially when it comes to subtle aspects. And also because she is the bearer of the voice of Abstracta, with the ability to decode and transfer needs, wills, desires, and wishes. Surely because she enjoys architecture so much and understands where our performance as professionals is going.
– Of all the interactions generated, what is it that most mobilized you and helped you to achieve a physical space representative of the company's identity?
It is not something that can be put into words, it is rather that which is perceived from minute 0 when you meet with those who run the company. It is an organization that recognizes and reminds itself of its origins. They naturalize the "organic" evolution they have had, dedicated, risky, and sustained. And they honor it in themselves, in the way they present themselves. They are a group of people with humility, even from the greeting. It is impressive how all this makes you feel "among friends", and that comfort is key to being able to deploy your tools as a professional.
Even so, all this did not always represent an understanding between what we proposed and what was understood, as a gap between the hyper-concrete plane of engineering and the abstract of architecture. In these moments, the figure of Vera Babat was key, for her ability to translate and her knowledge of the two universes.
– More than 60% of the office is dedicated to collaboration and meeting spaces. However, initially one of the main objectives had been to add workstations. How did you make this decision?
We realized that these were the most thriving places and that possibly these spaces were the ones that would pull the rest. We studied the trends in the industry and cross-checked this data with Abstracta's People Care team, which has in-depth knowledge of the needs of the Abstracta community.
The joint strategy was not to give in to the temptation of more jobs. Today we can say that it was a good decision: the pandemic was lurking and today WFH is an established reality. Now, the return to work in hybrid mode makes those spaces even richer than what we projected.
– Is it possible to design a space that invites you to relax and work at the same time, with clear limits to understand that it is a workspace?
Yes. With Abstracta, our strategy was, first, to identify the potential of spaces for different purposes: collaboration, meetings, and also workstations. Then, to understand that even though the space in the house was fragmented, each well-defined room helped us to separate projects. 
We felt that a totally open office space, in which everyone shares while using their desk, presents an unavoidable conflict of lack of privacy or intimacy. One possible solution is to create "retreats", either individually or for small groups, either to have meetings or to focus on work. For these more private activities, we build what we call cabins.
On the other hand, we characterized the collective spaces according to their potential uses. This meant providing them with equipment for recreation, rest, meetings, casual encounters, laboratories, and team building. The objective was to provide versatility so that the teams could have freedom, with the inevitable rigor that fixed equipment generates. 
All this leads to clarifying the strategy of space occupation: it is defined where it is possible to focus, to set up a production team, or to collectivize entertainment with the community, in a comfortable and motivating way, with the physical space as a sustainer and enabler of new possibilities.
Would you like to know more Abstracta stories? Start here.
Follow us on Linkedin and Twitter to be part of our community!
Tags In
Related Posts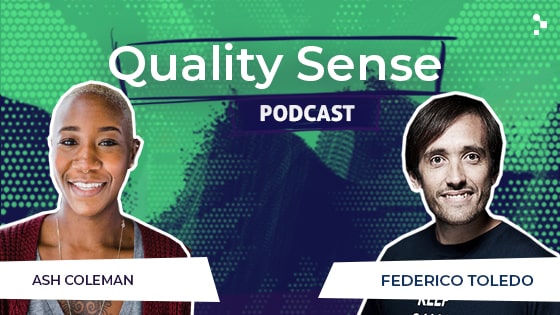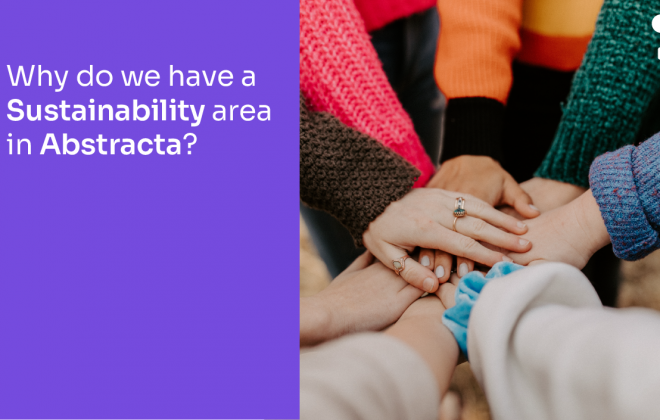 Why do we have a Sustainability area in Abstracta?
It is a key space to make Abstracta a sustainable and scalable company, seeking to generate a positive impact on society through the creation of quality technologies. Find out all about it in this article, with an interview with Laura Daguerre, Abstracta's Chief Sustainability Officer,…
Search
Categories
Read the Ultimate Guide to Continuous Testing