Why is it important to promote awareness of the importance of Web Accessibility? What changes are coming? We consulted with a panel of experts in the field in the context of the World Web Accessibility Awareness Day. With voices from Argentina, Chile, Colombia, Cuba, Guatemala, Mexico, Peru, Spain, and Uruguay.

By Natalie Rodgers and Julieth Soler
Immersed in the digital era, making the Internet more accessible and usable for everyone is a priority for the construction of a society with equal opportunities.

Sometimes, it is the barriers of the system that make people feel a disability, rather than the limitations of their different conditions. If everything was developed with a more holistic vision, possibly the meaning of "disability" would be perceived differently.

According to the World Health Organization (WHO), about 15% of the world's population has some form of disability, which equates to more than one billion people. Furthermore, the agency reveals that "almost everyone is likely to experience some form of disability, temporary or permanent, at some point in their lives."

"Disability raises human rights issues because affected people see their rights violated in multiple ways," WHO elaborates. These are fundamental rights, related to nothing more and nothing less than health and education, with economic and communication barriers.

We live in a globalized world in which technology mediates almost all areas of our lives. In this context, improving the digital experience of people through the development of software without technological barriers, taking into account all existing disabilities, is crucial. It is fundamental to make feasible the greatest possible digital autonomy and independence in each case. And thus improve quality of life.

However, there is still a lack of training and sufficient standards that require the application of accessibility guidelines. To improve user experiences, in pursuit of a more inclusive society and, why not, more empathetic and respectful of differences.

"If we continue to develop software with technological barriers we are preventing ourselves from freely accessing the web or mobile applications," said Software Engineer Lisandra Armas, QA Engineer at Wallapop and professor of usability and accessibility at the Catholic University of Bolivia.

"It happens in scenarios we least imagine. For example: when booking an online appointment for a doctor's appointment. Buying tickets. Accessing bank account information. Ordering food delivery service. Or make an online purchase, among many others," Lisandra explained.

"Prioritizing Web Accessibility means democratizing not only access to information but also equalizing access to the opportunities offered by the web, whether for professional or personal development. Not taking into account web accessibility contributes to widening the digital divide. Technology dictates the rules of today's society and cannot exclude anyone", emphasized Lucía Bustamante, Industrial Design graduate, Lead Product Designer at TheoremOne, Founder of MujeresIT, and Mentor at IxDF and ADPList.

"There are numerous benefits that accessible technology can bring to users with disabilities. And we might think that the issue only affects them, but the truth is it affects us all. For example, when we are in a library and we want to listen to a video and it is not subtitled, we will not be able to understand its content. If the video has subtitles, it will be understood by a deaf person and by people who cannot activate the sound or are in noisy environments. There are several scenarios in which if the content does not have the minimum accessibility features implemented, different users will not be able to consult it, understand it or use it" said Afra Pascual, Ph.D. in Computer Science, specializing in Web Accessibility and professor of Web Dynamics and Web Design.

In the same vein, Donnie Obregon, Bachelor in Communication and Marketing at the Peruvian University of Applied Sciences (UPC), a specialist in Web Accessibility, said: "Digital Accessibility is a way to generate more equitable social, academic and labor opportunities. With virtual spaces and accessible technological tools, barriers can be overcome".

"By extension, this equality of possibilities and independence supports the social demystification of obsolete ideas regarding disability. Such as welfarism and infantilization, many of which are still current and entrenched. The impact of accessibility on the lives of people with disabilities can range from the most superficial aspects to the most critical ones, such as access to essential public services".

In addition to the human dimension of the issue, there is a perspective related to reputation and business vision. "Creating accessible websites benefits us all. Caring about accessibility demonstrates good ethical and moral criteria, which improves the public image of a product or service", explained Telecommunications Engineer Douglas Urrea Ocampo, who works as Senior QA Automation Engineer at Endava Colombia.

Douglas continued: "Being inclusive can change the possibilities for people with or without disabilities. It helps companies and organizations make sure they do their work with everyone in mind. In modern software development, better accessibility means a better 'User Experience'."

How to Improve Web Accessibility?

We interviewed a panel of subject matter experts, and each answer brought up new questions. It would not be possible to cover everything in one article and at the same time do it in depth.

Beyond policies and standards, which differ from country to country, most of them agreed that to improve Web Accessibility it is necessary to focus on education and training. Below we share their voices and what they expect for the future of Web Accessibility.

Argentina


How to improve the lack of technical knowledge about accessibility in the IT industry?

It is important to talk about accessibility in the training stages of new roles that develop digital products. From non-formal courses or university degree courses, accessibility must be present as a perspective when thinking about the users who will use what we develop. And above all, the participation of diverse people in the work teams, to contribute experiences and technical knowledge.

What do you think Web Accessibility will be like in the future?

If in the future a greater number of diverse people get the opportunity to develop and create the products we use, accessibility will surely become an everyday thing.

Artificial Intelligence could help improve the detection of accessibility barriers and contribute to software testing, recreate diverse user experiences, and decrease the creation of software bugs. But the active participation of users with disabilities is still necessary to avoid biases in these systems.

Chile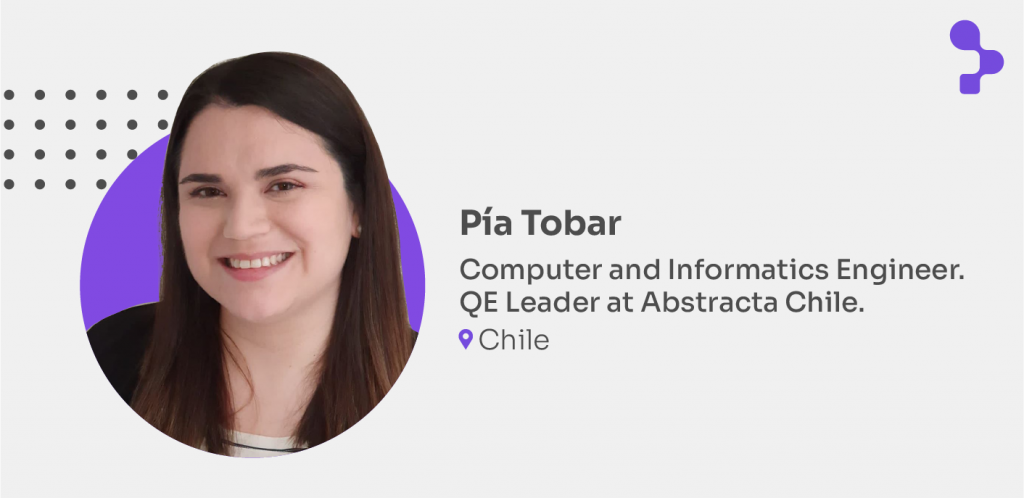 How to improve the lack of technical knowledge about accessibility in the IT industry?

I think higher education institutions need to broaden their range of courses and go a bit outside of what's traditional. They need to modernize. Technology covers all areas. It is no longer enough for students to graduate with programming skills alone. They must complement this with optional courses such as accessibility and usability. Developers need to know these types of technologies to develop accessible and usable applications.

What do you think Web Accessibility will be like in the future?

Accessibility in Chile and other countries is gaining more weight. Generations are advancing and people who are accustomed to digital platforms are beginning to need accessible products. The population is aging, users have needs, and can not leave aside the experience and support provided by digital platforms.

I think Artificial Intelligence will boost Web Accessibility. In addition, software testing complements accessibility, because specialists are needed to test and defend its principles.
Colombia

How to improve the lack of technical knowledge about accessibility in the IT industry?

The industry must be responsible for connecting accessibility with its transformative power to customers, employees, leaders, investors, and the general public.

Accessibility must be more than just a checkbox we check or an action we take. We must consciously include everyone in our interactions and experiences, recognizing the relationship between inclusion, accessibility, and usability.

The IT industry must move forward in creating an accessibility culture with deep and lasting roots. Many companies have already begun this approach with ongoing role-based training. Not only adding new members to the technology but also with existing teams involved in digital delivery, to continue to build their knowledge base with activities and ensure that the message and importance of Digital Accessibility are carried into all areas of the organization.

What do you think Web Accessibility will look like in the future?

I hope that going forward the purpose of organizations will be to have an accessibility ecosystem that is transparent and inclusive in the environment regardless of people's physical or social factors.
It is important to keep this in mind when designing and delivering inclusive services for people with and without disabilities. We cannot focus on a single way of experiencing accessibility to mark the "accessibility requirement" in organizations.

We cannot separate the experience of a person with or without a disability from their experiences with their other social identities. Therefore, I hope that the future of accessibility in the industry will be fully inclusive of all people.
Guatemala
How to improve the lack of technical knowledge about accessibility in the IT industry?

I think accessibility should be a mandatory subject in university and technical careers related to technology. From graphic design, programming and web development, and for all professions involved in building the digital world.

What do you think Web Accessibility will be like in the future?

The digital world has been evolving little by little to offer accessible solutions. I lived in a time when there were few large technology companies that offered accessible products and services. However, today several of the largest technology companies have accessibility policies, and these became examples that most small companies follow.

Based on these assumptions, I think we are going to get better. Now we just have to think about accessibility in virtual universes and accessible interaction of people with disabilities in these spaces.
Mexico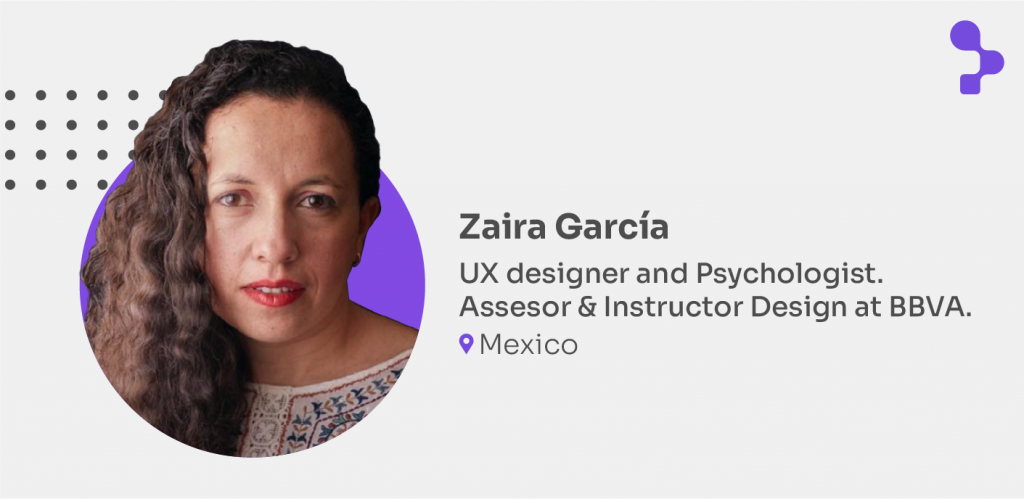 How to improve the lack of technical knowledge about accessibility in the IT industry?

Universal accessibility refers to a set of characteristics that an urban environment, building, products, services, or means of communication must have to be used in conditions of comfort, safety, equality, and autonomy by all people. It presupposes the "Design for All" strategy and is understood without prejudice to the Reasonable Adjustments to be adopted (Universal Accessibility and Design for All. ONCE foundation, 2011).

The Internet has had a remarkable impact on all levels of education, providing learning without borders, without limits. I believe that the future of education is networked.

On the internet people can collaborate to create and share knowledge, and develop new ways of teaching and learning that engage the attention and stimulate the imagination of students anytime, anywhere, using any device. Having access to this immediate availability and being always connected is very important.

What do you think Web Accessibility will be like in the future?

If we focus on web 3.0, it would be a good integration of technology for example tags. It will allow developers and testers to validate that the UI elements of an application produce appropriate events from the factory development automation to the UI. In turn, incorporate accessibility to have clearer user interface changes.

Peru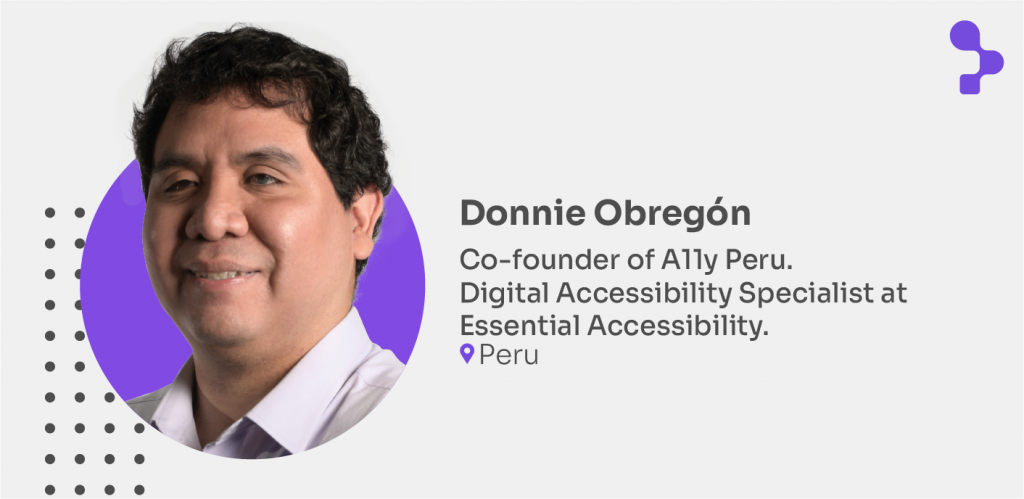 How to improve the lack of technical knowledge about accessibility in the IT industry?

In principle, it is important to realize that Digital Accessibility, although it is the "right thing to do", requires a clear legal and regulatory framework to serve as a reference and driver for implementation by the public and private sectors. Without this, Digital Accessibility will only exist to the extent that institutions feel more or less obliged to develop it.

Of course, it also implies the creation of specialized committees to supervise this accessibility, which may emerge from the very entities that currently watch over the rights of people with disabilities and consumers.

Only after the above, it is possible to think about the technical training of technology professionals. However, although this is a key aspect, it should be noted that it is one of the final elements in the accessibility chain.

First, awareness of the subject must be generated in digital professionals: Why is it important? Who does it benefit? What implications does it have for me as a designer, developer, or tester?

Secondly, both the creation of a policy that establishes the primary bases for the integration of the accessibility process in the organization and its digital product development cycles. Together with the formation of an A11y team (with an administrative representative capable of making decisions and influencing the business), are essential to ensure the scalability and sustainability of the accessibility project.

Finally, we can already think about the training and technical qualification of professionals, in which each role participating in the development cycle must know their responsibilities regarding accessibility, how to carry them out and how to validate their fulfillment.

For the acquisition of technical knowledge, external consultancies from specialized companies, small-scale trial implementation projects, or self-learning programs developed for each particular role can be considered.

However, the advice of a Digital Accessibility specialist will always be required, especially for some of the recommendations given, as it is difficult for a company that has never heard of Digital Accessibility to find a clear starting point. This can lead to quick frustration and project abandonment or mismanagement, which is even more dangerous than doing nothing.
What do you think Web Accessibility will look like in the future?

We are moving to a stage where web and physical accessibility is increasingly relying on image and voice recognition technologies provided by Artificial Intelligence. Moreover, this trend is clearly more oriented towards smart portable devices, such as smartphones, or "smart" speakers, such as Alexa or Google Home.

It is worth mentioning the progress made by Apple, a company recognized for its technological vanguard, which relies on its recognition technology to "improve" user interaction with non-accessible interfaces. For example, the "screen recognition" function of the iPhone 11 can now predict, based on the visual style and the code itself, whether the user is operating a switch or a button and present this information through the VoiceOver screen reader.

Significant advances are also discovered in the use of spatial 3D audio to enrich the experience of virtual navigation and in real spaces for people with blindness. Such is the example of Microsoft with their Microsoft soundscape service, an outdoor navigation system specially designed for this audience. Haptic feedback is also gaining ground. Developers are increasingly aware that the visual experience can be significantly enhanced not only with auditory cues but also with tactile cues.

Although, it can be said that Artificial Intelligence is gaining importance in the field of software product developers are taking advantage of the possibilities of device hardware to improve the accessibility experience, it is still vital to actively and programmatically work with it in projects.

Today, artificial technology still has notorious limitations and we must be aware of this because leaving something as critical as Digital Accessibility to the mere choice of a machine would be a serious oversight.

Spain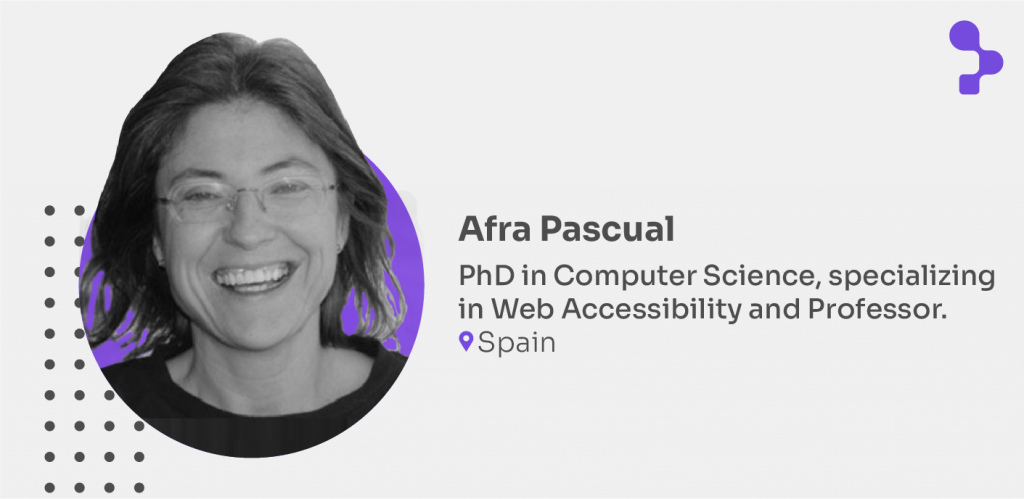 How to improve the lack of technical knowledge about accessibility in the IT industry?

Improve the way accessibility bugs are communicated to be more empathetic to content creator users (or prosumers). This would help prosumers, without technical knowledge in creating content on the web, understand the importance of creating accessible content.

I have recently participated in an article that presents an accessibility evaluation tool that communicates errors in a more empathetic way to prosumer users, showing messages a person with a disability could indicate. I share here a video on how the Empathic Editor Accessibility tool works.

What do you think Web Accessibility will be like in the future?

I would like to think that accessibility will not be a problem in the future because users will have become aware of it. Tools will be available to help implement accessibility in a better way or almost transparent to the user. But above all make it easier to understand the problems and improves the way to implement a solution so that the number of errors is minimized.

Having an intelligent accessibility evaluation will help the evaluation tools themselves learn from errors and offer a better perspective of repair to content creators.
Uruguay

How to improve the lack of technical knowledge about accessibility in the IT industry?

In Uruguay people can be trained at UNIT (Uruguayan Institute of Technical Standards), there is a specific training on Web Accessibility called "Accessibility Guidelines for Web Content. Fundamentals (UNIT 1215-1:2014)" . On the other hand, the international body World Wide Web Consortium (W3C) has standards and resources for developers, designers, educators, and editors, among others.

On the other hand, I still see some gaps in terms of accessibility in state digital technologies, and in websites that allow online procedures. Other areas in which I see a lot of room for improvement are web and mobile digital banking and educational platforms. Among the aspects I highlight the most, are design and usability issues, semantic code, and visual and sound feedback states.

What do you think Web Accessibility will be like in the future?

Being optimistic, I imagine a fully accessible web space with accessibility being an established and mandatory standard. I imagine a future in which all companies become aware and give as much importance to accessibility as to other aspects.

I also like to imagine accessibility in digital spaces outside the web. Such as virtual and augmented reality in applications, in video games, in educational and cultural fields, in which all people can enjoy emerging technologies.
Uruguay / Cuba / Spain

How to improve the lack of technical knowledge about accessibility in the IT industry?

To improve the lack of technical knowledge about accessibility in the IT industry, one of the first things to do is to start talking and teaching as soon as possible about its importance and how to create accessible software, as well as debunking many myths about accessibility.

I am very surprised when my students tell me that this is the first time they talk to them about accessibility in software, being that many of them are already in their last year of studies or even already graduated. I think it is necessary to begin to include accessibility in the study programs so that we can familiarize ourselves and create that empathy before the analysis, design, or code that we must perform. And we can think first if the functionality we are analyzing, designing, developing, or testing is accessible or not.
What do you think Web Accessibility will be like in the future?

It is difficult to predict but I bet that in the coming years we will have more technologies and education that advocate accessibility. Applications that are inaccessible today will be replaced by those that are barrier-free. We will be more aware that our products on the web can be accessed by everyone. We will be more aware of the benefit that applications being accessible offers us.

The use of tools and technologies using AI will continue to develop and expand into new areas, many of these tools will be widely accepted and will help improve accessibility as long as they do not create barriers to other disabilities. We can expect new AI applications to potentially improve web accessibility, such as automatically creating accessible names for content structures like tables, detecting and explaining form errors, and translating sign language to text.

As Ricky Onsman mentions in his article, we won't be able to leave everything to AI; in most cases, there will still be a need to apply human intelligence to ensure that web content is truly accessible.

Do you agree with these contributions? We'd love to hear from you – don't forget! We will soon publish a new article on Web Accessibility, related to AI and Software Testing.

Follow us on Linkedin, Facebook, and Twitter to be part of our community!

Tags In
Related Posts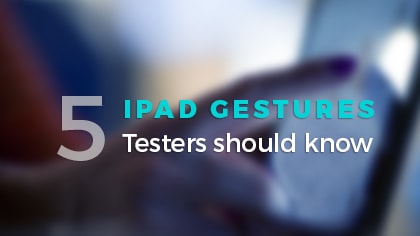 5 iPad Gestures Testers Should Know
When testing an iPad app, how can you be sure that you're testing all the gestures that users will try to use? At the end of 2015, more than 3.2 billion people worldwide were using the Internet and over 7 million mobile subscriptions existed. For…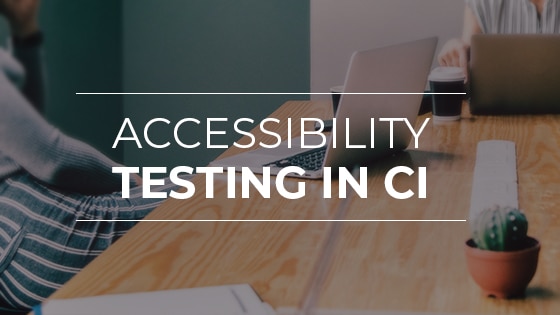 How to Easily Do Accessibility Testing in Continuous Integration
How to add accessibility tests to your CI pipeline using the open source tool, Pa11y If you are unfamiliar with continuous integration (CI), it's a practice wherein each developer's code is merged frequently (at least once per day). In this way, a stable code repository…
Search
Categories
Read the Ultimate Guide to Continuous Testing