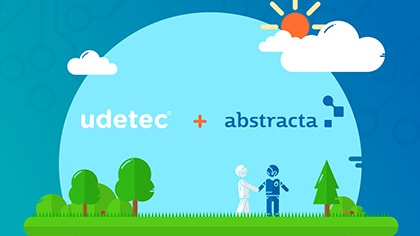 Abstracta Acquires Software Testing Training Platform, Udetec
Abstracta Academy now offering introductory and advanced software testing certifications in English and Spanish
Redwood City, CA: Abstracta, a leader in software testing services, tool development, and QA training with over 50 years of combined experience, announces its recent acquisition of budding online software testing training platform, Udetec. Udetec was created to provide Spanish speaking individuals the ability to quickly learn a high in demand technical skill set in order to start a new career.
Over the years, the brains behind Udetec developed their own highly personalized methodology that allows for the simple, quick, and secure transfer of knowledge. Similar to the performance testing certification by Abstracta, Udetec's certifications have been specially designed by engineers, PhDs in information technology, testing specialists and university professors. The founders of Udetec and Abstracta recognized that each had created online software testing training platforms with similar teaching methodologies and principles and so, both parties agreed that Udetec could be integrated seamlessly with Abstracta Academy.
Federico Toledo, Udetec's Academic Director, expressed his satisfaction in an email to Udetec's current students, "We are really happy, due to all of the support and prestige of this renowned company [Abstracta] in the area of software testing." He also explained how students will benefit, "This brings benefits for you too, as you can access a variety of courses in both Spanish and English from one platform. Moreover, you will have more visibility and thus more chances of getting a job in the sector. It is a part of Abstracta Academy's mission to accompany people as they grow in their career, helping them to advance and progress smoothly while contributing to the tremendous growth in the field of testing."
Abstracta is positive about the future of its software testing training platform and looks forward to creating more courses accessible to even more students on a global level. "This acquisition reflects Abstracta's promise to help testers reach their maximum potential by training them so they can be a part of the ever-changing and challenging world of the software industry," said Matías Reina, co-founder of Abstracta, "The industry desperately needs more and better testers that give solutions to teams in order to release high quality products. The training of Udetec that will be added is in line with that of Abstracta Academy's and will allow individuals to advance their level of knowledge through a quality learning experience."
The acquisition follows the first successful run of Abstracta's own online certification course in performance testing with JMeter and BlazeMeter. BlazeMeter and Abstracta recently announced their partnership with the aim to help testers and developers to quickly add performance testing as a new non-functional testing skill to their repertoire. With its partnership with BlazeMeter and having acquired Udetec, Abstracta is building a leading online software training platform.
The Udetec courses are now available on the Abstracta Academy platform in Spanish with English versions coming soon. 
About Abstracta
Abstracta is a world leader in quality assurance and testing focused on improving the performance of software applications. With offices in Latin America and Silicon Valley, Abstracta has over 50 years of combined experience working not only with leading-edge proprietary and open source testing tools, but developing specialized tools for financial, retail and technology including companies such as Verifone, BBVA financial group, GeneXus software and the largest retail bookseller in the United States.
To learn more about our products and services, visit www.abstracta.us. For testing articles and tips, visit ourblog or follow us on Twitter @AbstractaUS and on Linkedin.
About Udetec
Udetec is one of the premiere Latin American software testing e-learning platforms designed to help individuals gain the necessary knowledge and skills to catalyze a new career in the software industry. Udetec's courses have been specially designed by engineers, PhDs in information technology, testing specialists and university professors.
Tags In
Sofia Palamarchuk
Chief Product Officer, Abstracta
Search
Read the Ultimate Guide to Continuous Testing