In this Quality Sense episode, our host Federico has the pleasure of interviewing Simon Prior, who has worked across the cyber security, retail, gaming and airline industries. Simon is a passionate software quality leader, advocate of the importance of teaching testing at universities and co-host of the Testing Peers podcast. Simon shares what he's uncovered about the lack of awareness around testing in UK universities, the high expectations of managers at the time of hiring testers, and his own opinions about who to hire and what to keep in mind while doing it. Simon keeps looking for ways to promote further awareness of testing as a career path, which he does continuously through career talks and his social media channels. We invite you to listen to/read this new episode to keep learning and hearing what leaders of this industry have to say about it.
Episode Highlights
How Simon got started in his testing career and why
Why universities don't teach the top skills needed in software testing (hint, the most critical ones aren't technical!)
How to help form more potential testing candidates and widen the talent pool
What to look for when hiring a tester with no experience?
Relevant Links:
Listen Here
Episode Transcript
Federico:
Hello, Simon. How are you doing today?
Simon:
I'm good, thank you. How are you?
Federico:
I'm fine. Really, really happy that yesterday I got my first shot.
Simon:
Excellent.
Federico:
I think it's like seeing the light at the end of the tunnel, right?
Simon:
Yeah, everyone in my family has got it apart from me so I'm still waiting for my first one.
Federico:
Okay but it's going to come for everyone, I hope.
Simon:
Fingers crossed.
Federico:
Thank you for accepting the invitation. I'm really excited about talking to another podcast host! Tell us about Testing Peers please.
Simon:
Testing Peers is a podcast on testing and leadership. There's four of us that co-host it. There's myself, Chris Armstrong, Russell Craxford and David Maynard. And it started about three, four years ago. Chris reached out to a whole load of people who were in a situation where they may be the only tester in their company or the only person that seemed to care about quality or had no one to hold them to account on testing related issues. And we came together, it started off as a WhatsApp group and then it became a Slack channel. And we started talking about doing a blog, a collaborative blog where we all interacted and did these blog posts and then I came up with the idea, why don't we just do a podcast? And it took a bit of convincing. We started the channel in about June, 2019.
We started the Slack channel and talked about doing a podcast and then in May, 2020 we released the first episode. You can see there's about nine months where I'm like, "Come on, we can do this. It would be worth doing." And they were starting to get on board and we started designing logos and talking about topics and we now have a Trello board with about 50 or so plus topics to get through.
We have a patron, we're on… Got a sponsor. We're trying to take over the world in testing and leadership. And it's an enjoyment as well. Wednesday nights we sit down all of us with a beer or two and we record from our homes over Zoom for a couple of hours and it's a social thing as much as I can be asked. Yeah, it's good fun.
Federico:
It's a social thing and your learning and enjoying a good conversation with friends.
Simon:
Absolutely.
Federico:
Sounds amazing.
Simon:
It's good fun.
Federico:
Tell us also, what are you doing nowadays and how did you end up working in software testing?
Simon:
Yeah so I started my journey, I left university in 2007. I was a researcher on a cybersecurity cybercrime project to start with. Research on how we could profile criminals between different stuff online. And then I moved into cybersecurity. I worked for McAfee for 12 years. I started as a developer, a graduate developer, but I worked on a team where every other developer had 10 to 15 years experience. And there was me as a complete newbie, which was great to learn but it also meant I was the one that gets stuck in the build room, figuring the build scripts and I'm… Or working on Unix build scripts rather than getting to develop the code of the software because they were the experienced ones. They knew how to do the development. I get the little bug fixes here and there, but I never really got the full meaty development activity.
I started picking up more of the testing tasks in the sprints. And as I learned to find more testing tasks, I learned I enjoy testing a lot more and started picking up right in the automation scripts in Perl or developing the new features, the testing for the new features. And eventually in 2010, I switched over to QA, started as a QA engineer. Worked across several different teams in McAfee, became a QA lead, eventually into QA management. And then I've moved on a couple of roles since where I've taken more senior QA roles on and I'm now a senior test manager at EasyJet. It's taken its time, but I now sort of look after all the digital testing at EasyJet and that's my main focus.
Federico:
Cool. Back in 2016 you initiated a movement or a thing called "make a tester."
Simon:
Yes.
Federico:
What is it about?
Simon:
That started because I got asked to do a careers talk at the university I went to and they were interested and because they knew I worked in the software industry. They wanted me to come back and do a careers talk and as soon as they did, they then dived into, "What is it you actually do is in the software industry." And I said, "I'm in software QA. I can come and talk about QA."
And they were like, "Oh! Oh! Not sure about that. That's not really something we cover on our syllabus. Would you like to come and do a special interest talk instead?" And I was like, "That's not really what I was putting out." I was like, "We need more people in testing. I was happy to come and do a career talk." I backed out of doing the careers talk and then I started researching the universities.
And the rest-
Federico:
Let me guess, it was optional, right?
Simon:
Exactly. It was the second or third year module, it was optional. It wasn't a core module at all. This was per the ends I then reached out to find out more and there were some modules… Some of them had modules where they did software engineering and they taught unit testing as part of the software engineering life cycle. But there was very little about testing as a whole.
Then I was like, "Well, that explains why when we go to career fairs and try and hire graduates that no one knows what testing is." Then why do you think people fall into testing later on? Because they don't get it as an option to start with so they have to… The only way they get into testing is by falling into it. That then led me to going to the community and saying okay.
Universities aren't helping us with training for testers. How do we therefore get people interested in testing roles? What skills should we look for when hiring a tester? Or what skills should they develop? And I created the #MakeATester. I started a meetup, the meetup that I run. I ran a white boarding session at that point about what skills can we look for in testers?
And I created this list, I'd had 400 responses then 26, 28, 30 top skills and four of the five top skills were soft skills.
There was communication, there was listening, there was, trying to think questioning, good curiosity and question asking and technical skills were right down the list. And then it was like, well, that's probably why it's not a natural fit for university courses because it's not teaching the technical skills.
It's more about the critical thinking, the analytical skills. Then how do we build out a course for that?
And that's the point I got to where I presented a talk at UKSTAR, the conference and I got quite a lot of feedback from the community and other people started going out and now I'm at the point where we're trying to spread the word and try and bring that word out further and trying to either get more universities to pick it up or to try and find other ways in which we can get that interest in the testing industry.
Federico:
In Uruguay, I was collaborating as a teacher for a subject in software testing. But as I say, that's why I asked if it was optional because in this case, it was at the end of the career and it was an optional subject. I think for people working as developers today, we are forming them, giving this idea that testing is something that you do at the end and as an option, I think. Nobody told me that a career in software testing was something that I could be thinking about.
Simon:
Absolutely.
Federico:
How can we help with this? Because you mentioned that you're trying to get more universities teaching or including it in the syllabus?
Simon:
Well, we're not at the point of preparing a syllabus as such yet, although it's something that we'd like to work on. And actually this is something the Testing Peers have picked up as a group now that we will reach out to all of the UK universities. We're starting with the UK, we don't want to go too big just yet but we'll start with the UK and I speak to all the university computer science departments that teach computer science. And I'll just ask them the question, "What do you cover with regarding software quality, software testing?" Just as a starter and then look at… Depending on what responses we get, how can we help them increase the coverage of testing on their syllabuses? Even if it's just a case of within the software engineering modules, they cover more testing stuff or whether we are able to help them convince them that an actual testing module at least is important.
But for me, it's not just about creating more testers, it's about creating the awareness of testing so that developers that come out of university know, as you say, it was optional in a lot of courses. Know that testing is important and it actually is as important as learning seven different programming languages which you might do in a three year computer science degree. Yeah, that's what we're doing. We're looking at reaching out to universities and asking that question of what do you currently cover and how can we help improve that?
I would say the best way of helping is find your local college, university, reach out to them and ask that same question or if you know someone offer to go and do a careers talk at a university or do something along those lines.
Federico:
Apart from the universities, do you have any other institutions or academies helping to form, to prepare people for testing?
Simon:
I've seen a few. There's been a few boot camps set up in the UK that are running and they're running as a free thing at the moment. There's some in Yorkshire, in the UK that are running at the moment that are sort of training people on testing to some level but I'm not seeing a lot in the UK other than the usual certification courses and whatever that go on. Yeah, it's quite sparse as far as where people can learn testing other than doing it themselves. That's where the biggest problem is I think.
Federico:
Totally. In the last, I would say five years, there have been institutions, they're in Uruguay, with short careers like one, two, three years and with the focus of forming people for testing or test automation, like teaching the basics of programming but I find that there is a gap still with this approach that for them, for these people that typically are very young people, they find it very hard to get their first job opportunity. Because in our industry, we typically look for this expert engineer that can take over all the activities and full-stack something.
Simon:
We want someone with 25 years experience when they are only 30, right? That kind of thing.
Federico:
We are crazy about that. What can we do in order to change that reality?
Simon:
I think we as an industry need to be there to support that intake, need to look at the pool of people coming into our industry and what can we do to give them the right tools. If we're struggling to find people to come into testing roles, let's go out and help them get testing roles. Let's teach them about testing, go out to schools and colleges and do careers talks, become a STEM ambassador and talk to students about testing, get them engaged, get them excited about what we do because I do think that's a part of the view as well is, testing is not seen as this exciting career. It's seen as the bolt on at the end of a development cycle that's… You don't need to be very clever to do testing. It's just, you run a few tests and it's out of the door which as experts in the industry, we know that's not the case.
We need to change the narrative of our industry. And there's a lot of people that are doing lots of good things. I mean, Angie Jones with the Test Automation University and stuff like that, that's a big thing to be pushing people towards as a learning resource. The Ministry of Testing, there's loads of other opportunities as well. There's loads of great resources that can really help you learn more from a testing perspective. But it is, how do we make that more visible to people that aren't in our industry already?
Because I think that's the other thing with our industry is we're very good at talking about how great testing is within the confines of our industry, but outside of our industry, people still know as little about testing as they knew five years ago. And it's how we break those barriers and spread that awareness outside so that when people have to talk about software engineering, testing is a big part of it. It's not just the development methodologies and the life cycles, it's all about the testing as well. Until we break those barriers down, I'm not quite sure how we're going to get that message across?
Federico:
You are saying that we are good at convincing people that are already really convinced.
Simon:
Exactly.
Federico:
Okay and what about the narrative you're saying we need to change. Do you have any hint? What things to take into account to improve our narrative?
Simon:
It's trying to articulate it in a way that shows that testing is as important as the development and that a good quality piece of software everyone's working together. It's not just about the code being written in a certain way, it's about it being tested and validated in the right way as well. And building the code in a right way in the first place to enable that testing. Yeah, I haven't got any key phrases really to go with that but it's really about how do we bring that message together that we're all one team working towards the same goal rather than two separate entities and different companies are at different stages.
In my 15 years experience, I've not worked in a company that has been wholly agile. We've talked about agile, we've paid lip service to agile, but there's still been that divide of development and test and test. Start the work at the start of the second sprint because developers didn't finish until the last day of the first sprint, it's all that kind of stuff that isn't really truly agile stuff. Until we get that mindset of we're all collectively working together and testing is as important as development, then there's going to be those… The narrative is not going to change unfortunately. It's changing that narrative to be more collective.
Federico:
Going back to the other topic, you mentioned about the different skills and tools and things like this that we need to teach the future testers that our industry needs and maybe the most important things that are missing?
Simon:
The limits… What I saw the universities were teaching was… So the one university that had the module on software testing, it was very much related to the ISTQB Foundation Certificate. It was very much the theoretical side of risk assessments and test plans and test strategies and writing good test cases and bug reports, which are all very important and fundamental things that need to be learned.
But what was missing for me was, how do I actually test it? What is the thought process behind writing a good test? How do I do exploratory testing and exploratory testing in the terms of actual session-based testing where we set ourselves a focus for two hours and we do good exploratory testing rather than it being ad hoc, we're going to click around the screen for a few minutes and just helping with those good practices and also it's about learning the critical thinking side of things.
And I know a lot of those are things that the boot camps that I've mentioned earlier are trying to put them through along with mobile testing, accessibility testing, all the things that complete the package. From what I saw the fundamentals of the courses were very, very theory based and very… There's only one way to test. And actually…
Federico:
I'm thinking also now that maybe the most important skills, the "soft skills" as you said, are not things that you teach in a subject in four months, right? But it's something that you should embed in the whole career and put focus on the different subjects in the five, six years, trying to motivate the person to think in a different way, to be more curious and things like this. And also every programming language I learn… I should be learning how to unit test it.
Simon:
Absolutely.
Federico:
At least! Coding is not only about writing lines of code, it is solving a problem. To solve a problem I have to do some exploration, some critique on my own solution, right?
Simon:
Absolutely and this is part of my concern with the academic world at the moment. I think more industry or companies within our industry need to be working with universities in partnerships. Because the students I know have gone through university recently are not coming out with any knowledge of what the industry is actually like. They're coming out with, "But I've learned to program in seven different languages." "I can get a coding job." Well, great. You might be able to code but how much time of your coding job do you think you're actually going to spend coding? It's not going to be a hundred percent coding. You're going to be doing a lot of other stuff as well, that you might not have been taught at university and that includes testing. And how do we build that pack? How we build that learning mechanism that brings the industry and the world of academia closer together. And it's bigger than the testing part. There's a lot more within our industry that's not being covered but for me, the testing part is critical that we find a way of bridging that.
Federico:
Yeah and maybe that's why the industry doesn't trust that much in the new… In the just graduated people because there are many things that they don't know yet. Like to communicate and collaborate within a team. That's why they prefer to hire someone that is really experienced.
Simon:
Yeah and I've seen companies that have gone with, "we don't care what the degree is, we just want them to have a degree" because that shows them some kind of learning that they can do their own learning rather than actually, you've done a computer science degree so great. You'll be a great coder. They've gone for the… You've shown that you've done three years of disciplined self-learning that shows someone that's willing to learn. We'd rather take someone off that, than actually go into what you've learned on your degree which it almost becomes…
The degree becomes a tick box rather than actually, how do we make it more relevant and valid and actually feel like you're actually going to go out into a career because of what you've learned on your degree and because of what you've proven you can do.
Yeah, there's a few gaps there that we need to need to fix. And I certainly, when I've hired graduates in the past, I've looked at ones that have got computer science backgrounds but the best graduate I hired didn't have any testing experience and was very limited in his coding experience but he was perfect for what I needed as a tester.
I took him on based on what I could see in potential and the enthusiasm and he had the passion and he was able to pick it up quite quickly and probably one of the best testers I've ever hired. Sometimes you have to make that gamble based on what you think they can become and the passion and the interest is part of that.
And I think there's a lot of nervousness from companies within the industry as well to go out… "Well, we can't just go and hire someone hasn't got any experience because they're a risk." Actually, yeah there are risks. But with the right support structure in place and the right training program in place and the right mentors within the industry, they can be as successful as somebody that's coming with all the qualifications possible. It's setting up the right support structure within our companies to enable that to happen.
Federico:
You change the risk for a huge opportunity for you, for the company and for the person especially, right? I find amazing what you are doing, trying to get feedback from the industry and provide that feedback to the university to allow them to prepare in a better way, the new professionals that the industry needs. And we needed to improve that type of connection between industry and academia. Yeah so much needed. Simon I have a couple of final questions for you.
Simon:
Sure.
Federico:
One of them is if you have any habits to recommend to people to form in order to improve our productivity, our happiness in our daily lives.
Simon:
Other than the obvious ones of taking a break and don't spend too much time on meetings all day long every day. But no, I would say is from a testing perspective, for me the habit has been, try and find every opportunity to learn something new and to talk about it with other people, whether they be testers or non testers within your organization. Anything you can do to help spread the words helps improve the culture of quality across the organization and that's something that I'm very passionate about driving as well.
Testing isn't something that should be left just to the test team. That's something as a group collective, we should be pushing that agenda across an organization and learning, finding opportunities to learn. I've recently been pushing one of my team to learn exploratory testing and I've been learning it with him. We've been doing the book together. We've been talking about it regularly. I've helped him push exploratory into our current testing process. And I'm doing that as I go along. I try and bring someone on the journey with me and do that together because I think the more we learn, the better we make ourselves, the better we make our teams.
Federico:
Sure. Do you have any books to recommend?
Simon:
One book that's my reference go-to now it's one that Erika mentioned a few weeks ago on the pod as well, I think Leading Quality. I've got a lot of time for Ron and OAS. I've done a few webinars and stuff with Ron as well. Yeah, it's a really good book, easy to read and it's so valuable to testers as non testers alike, to learn the importance of quality with an organization. And the one I've been doing a lot more recently is Explore It! With Elisabeth Hendrickson. That's a very good one to pick up exploratory testing.
Federico:
I am reading Leading Quality since Erika recommended and I haven't finished it yet but I am really recommending it to other people because it's great.
Simon:
Absolutely. And Ron came to my internal test community a couple of months ago and gave a talk and gave a couple of copies of the book away and we've got the audio book and stuff as well within the team. It's a book that's very heavily used now.
Federico:
Great. Simon, thank you so much. Is there anything you would like to invite our listeners to do, to subscribe to your podcast, reach out or something?
Simon:
Yeah, I think the podcast is the big one. Yeah, give us a follow on whatever podcast channel, Testing Peers or testingpeers.com is our website, follow us on any of the socials. We'd love to know whether we're doing something good or not.
Federico:
Again, thank you so much. It was a pleasure to have you here. Let's keep in touch.
Simon:
Brilliant. Thanks Fede!
Federico:
Bye bye.
Simon:
Bye.

---
Recommended for You
Quality Sense Podcast: Fernanda Sesto – Getting Started in Testing
Quality Sense Podcast: Tristan Lombard – Building Community and Lifting Others Up
Related Posts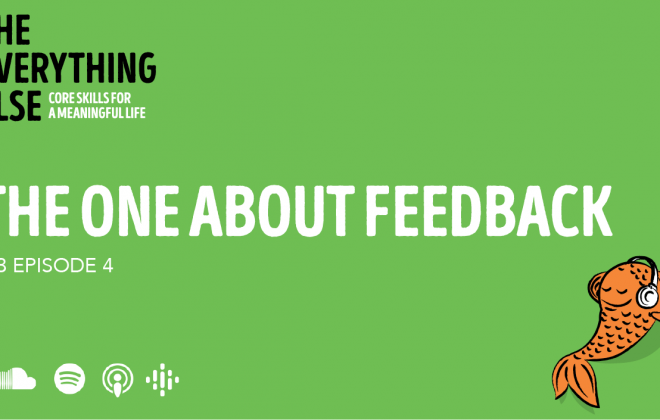 The Everything Else | The One About Feedback
 How did you feel the last time you received feedback? And when was the last time you were on the giving end? Feedback makes people feel a little squirmy, and the harsh consequence is that sometimes we run away from it. In today's episode, Vera…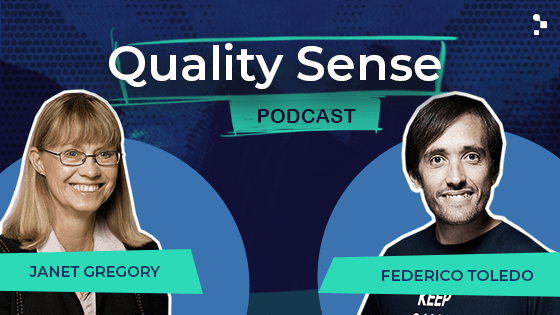 Search
Categories
Read the Ultimate Guide to Continuous Testing