Chatbots and a telemedicine app are some of the tools the local tech community is providing to help the Uruguayan government care for its citizens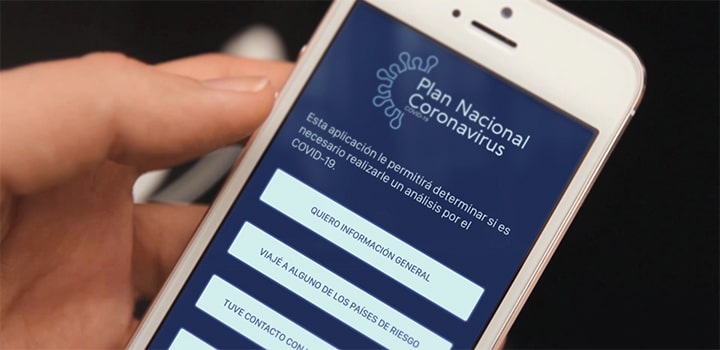 For almost every country in the world, the arrival of the COVID-19 has posed a tremendously large challenge to create and execute an adequate and timely human response. In this crisis, people with all kinds of expertise and backgrounds are looking for ways to give support to those brave souls who are working on the front lines every day (while simultaneously doing our part by staying home).
Fortunately, aiding from a technology standpoint is something that we can do from home!
In Uruguay, the first four cases of coronavirus were confirmed on Friday, March 13th. I remember it well, because on that day, at Abstracta, was when we decided that by the following Monday, we'd all make the transition to working from home.
As of April 7th, Uruguay had 415 confirmed cases and 123 patients cured and six reported deaths of COVID-19.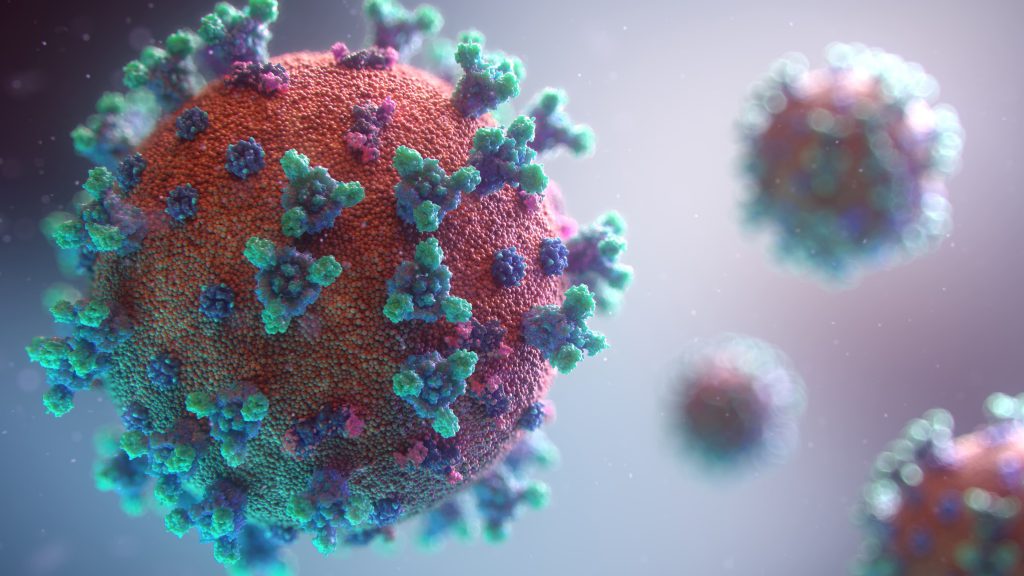 The Uruguayan Tech Community's Coronavirus Response
Several members of the Uruguayan technology community began to act in solidarity right away, developing tools for the community to use to support one another. Our friends at Dynamia created an app, cuarantenapp, that connects people with ways they can volunteer to help others, and a handful of websites like vayviene.com.uy, ferias.uy and yoayudo.uy were launched to spread awareness about which local businesses are still open and offering delivery services during this time.
Although Uruguay has only slightly over 3 million inhabitants, our government boasts the highest rates of digitization of services for citizens in Latin America and has developed a unified digital strategy to deal with COVID-19.
In particular, the government needed to organize demand and optimize health services, avoiding face-to-face healthcare services as much as possible and to decongest telephone communication channels.
In response to this need, a large, spontaneous, and voluntary effort emerged by the public and private sector to work together and follow in the footsteps of China and South Korea by making technology a central part of the strategy to face the pandemic.
This effort led to the development of a virtual assistant (chatbot) added to government websites and on those of public and private healthcare providers. The bot provides information on the disease, containment measures and recommendations, and carries out an epidemiological questionnaire for people with possible symptoms. The bot was also embedded into WhatsApp and Facebook Messenger, the two most popular messaging platforms in the country.
In addition to these chatbots, this collective effort led to the creation of an official app, Coronavirus UY, available for both Android and iOS.
In just one week, the first version of the app was released, one week before Apple released its own screening application in the US.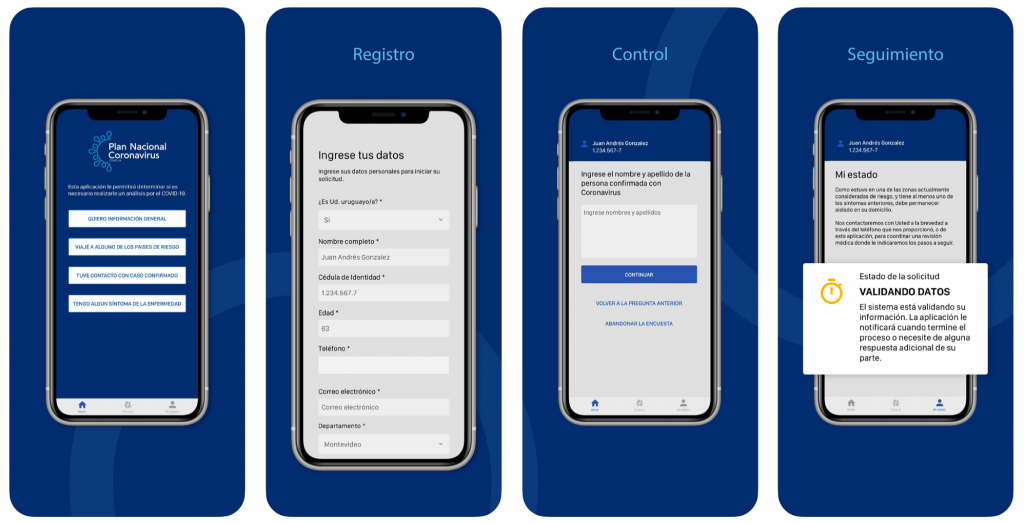 A Modern Telemedicine App: Coronavirus UY
According to Gaston Milano, CTO of Genexus, one of the driving companies behind the initiative:
"Coronavirus UY (the app) provides a safe self-assessment mechanism for COVID-19 without saturating phone lines and avoiding transfers, which aims to improve the care of those who suspect they have COVID-19, and now it also has new features such as Drive-Through testing, and telemedicine for those who tested positive. This system, which has already been downloaded by more than 250,000 users, optimizes communication between the population and health services, by collaborating with citizens who require a medical evaluation."
Thanks to the digital strategy, it's been possible to have the information in a single database, which allows for the proper care of suspicious cases, the organization of demand, and optimization of health services for the Uruguayan population. Currently, there is a single case tracking tray of COVID-19 that allows health personnel to follow up on cases and contact each registered person following protocol and guidelines.

Tied to the Coronavirus UY app is a clinical assistance platform that allows, through a teleconsultation, to provide healthcare to suspected and confirmed cases that have a clinical indication, which improves the quality of care and also protects the health personnel, avoiding possible contagion.

Finally, this collective effort also created a digital tool to survey the beds, ventilators, and personnel available in the different hospitalization services affected by COVID-19.
Who's Involved?
In order to provide aid in these areas, a team of more than 150 people quickly began to build the solutions: chatbots for web, from Facebook messenger, and from whatsapp as well as the Android and iOS applications, support web systems, etc.

In his article, Gaston Milano mentions a list of contributors of the project, but, he clarifies it's not limited to only these: The Uruguayan Presidential Office, Salud.uy, AGESIC, MSP, SINAE, Claro, ANTEL, ITC, HG, BPS, healthcare service providers, ASSE, HCEN, Accesa, Quanam, Tryolabs, CUTI, ISBEL, Abstracta, Qualified, DVelop, i+Dev, Concepto, GeneXus Consulting, Globant, BigCheese, InSwitch, IxDA, Dils, ICA, Google, Apple, Facebook, BlazeMeter, Sinch, and GeneXus.
On behalf of Abstracta, we're proud to have contributed some of our own elbow grease and 'round the clock man hours to verify that the Coronavirus UY app could handle the expected load.
Verifying the Apps' Performance and Robustness
Building and deploying all these systems in less than a week was a very challenging task and one of the fundamental aspects that Abstracta was able to give its support was in testing the performance of these apps.
All the development effort could have gone south if, upon downloading these apps, the users found that they do not work properly, or don't respond, or are simply too slow. In a context where the whole country is practically at home, the usage of these tools was expected to be massive and widespread. Our presidential press conferences, similar to the ones in the states, have seen a high level of viewership. Whenever our president mentioned the coronavirus app during these conferences, thousands of people would download it.
With all this at stake, we must thank our partner, the BlazeMeter team, who decided to collaborate with the project by providing access to its tool and resources such as dedicated IPs for the São Paulo data center to be able to carry out our performance tests at scale.
Abstracta performance engineers built load testing scripts using the Websocket protocol, which is what the chatbots used, tests of various REST services, web tests, and mocks of services to be able to test the components in isolation. We used BlazeMeter's performance testing cloud platform to test everything that was put into production.
All this technology and the testing infrastructure was essential to be able to substantially improve the performance of the different components.
Ensuring Functionality and Accessibility for All
Of course, performance was not the only critical quality factor for these tools. We also were joined by some of the other volunteers to carry out hundreds of functional test cases to verify the apps worked as intended. In order to facilitate the rapid release of each iteration, we helped to automate functional tests at the unit level.

Furthermore, since the inception of the project, the group's goal was to ensure that these tools would be 100% accessible for all. Various volunteers including Abstracta's accessibility experts took part in accessibility testing, making sure we followed the standards and best development practices so that people with varying physical disabilities would have no barriers to using these tools.

In Times of Crisis, We Come Together
Personally, I am overwhelmed by the spirit of action that I have seen in Uruguay, especially from founders and CEOs of several companies, taking the time to personally write scripts, program, and put in hard work even though, meanwhile, they were facing a multitude of their own challenges.
While we're proud to be part of the country's digital-first strategy against the disease, we know that we still have tough times ahead, but we look forward to continuing to collaborate on the apps as new features are added (we are planning to add psychological care assistance as well) to care for others and help accelerate the eradication of the virus in our community.

A special thanks again to our partners at BlazeMeter without whom we would not have been able to run our large-scale performance tests and to GeneXus for bringing us on board this project. Finally, thanks to everyone who collaborated, especially my colleagues in Abstracta, whom I've been interacting most with in this project, seeing firsthand all of the effort they volunteered to help make these life-saving tools!

---
Recommended for You
How Can You Optimize the Cost of Software Testing?
Video: Managing Your Fully Remote Team in Times of Crisis
Related Posts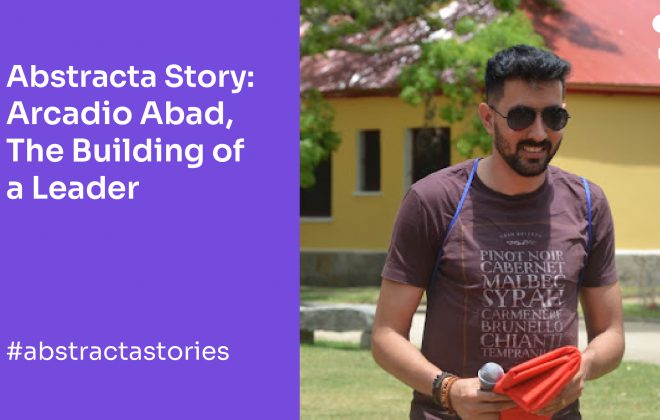 #AbstractaStory Arcadio Abad, The Building of a Leader
Cuban by birth, he chose Uruguay as his home in the world. Abstracta has been key for his migration to become a process full of hope to step by step, fulfill his goals and dream bigger every day. By Natalie Rodgers Throughout his childhood, his…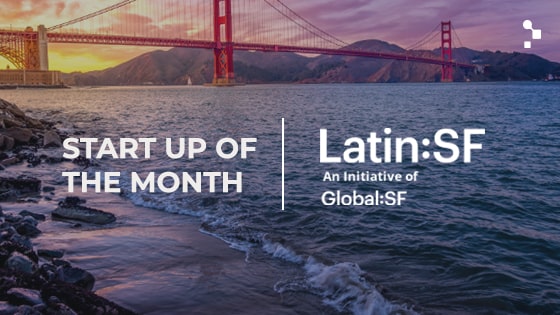 Abstracta Proudly Named "Startup of the Month" by Latin:SF
Increasing the level of collaboration between North and South America benefits the global tech community It is a great honor to be named "Startup of the Month" by Latin:SF in conjunction with the opening of the new Consulate of Uruguay in San Francisco. Latin:SF is…
Search
Categories
Read the Ultimate Guide to Continuous Testing