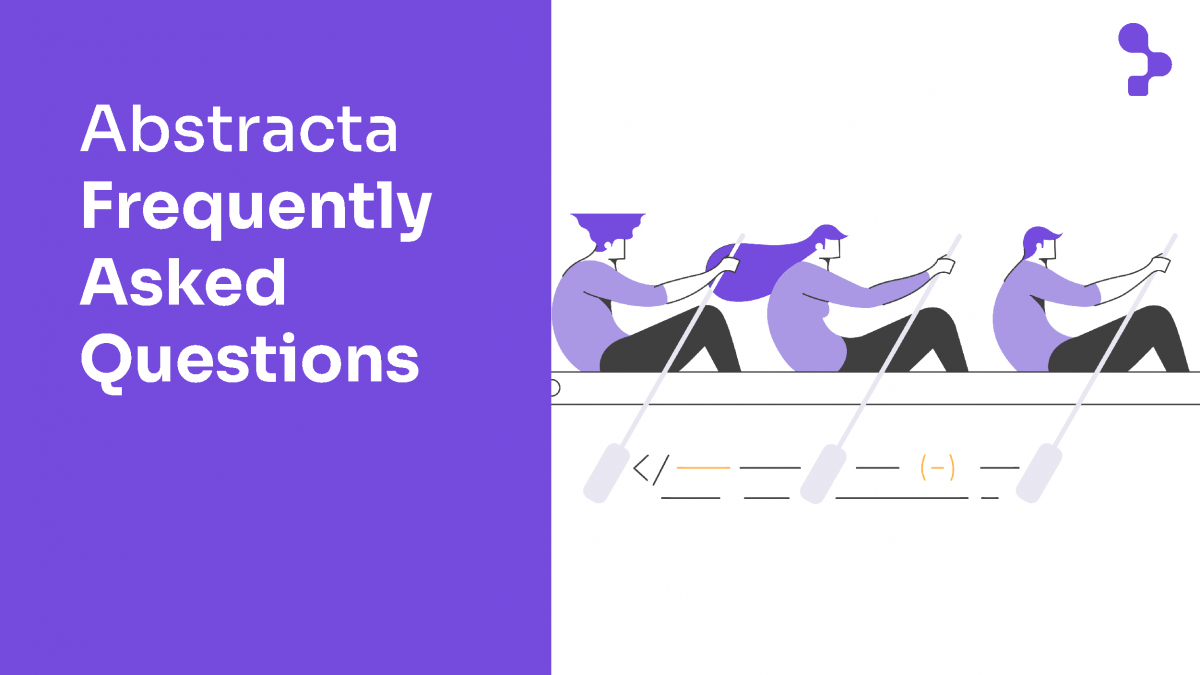 Abstracta Frequently Asked Questions
Would you like to work at Abstracta or are you already doing it? Then you can't miss this article. Here we tell you all about our work proposal and the benefits we have thought for you.

Our proposal is focused on promoting the integral health of people through work. We promote a humanistic culture, in which people are the focus in all their dimensions: physical, mental, and social.

We have told you all about our culture on several occasions, but how does it all become tangible at the time of the actual work? Humanistic culture is not able to have a real positive impact on people's lives if it does not include tangible and clear benefits that allow and promote individual care and development.

That is why today we tell you all about our benefits that promote quality of life, as well as every detail about our hiring and working modalities.

Frequently Asked Questions
1️⃣What is my place of work?

There is no one-size-fits-all answer to this question. We want you to find a way of working that fits your lifestyle. You can work from wherever you want, at home or in our offices, or even alternate, as you prefer.

We have two offices in Uruguay, in Montevideo and Salto, so you can come whenever you want and feel at home.

2️⃣What is the working modality?

We have flexible hours so you can adapt to what you need. Therefore, you can choose between full-time (8 hours) or part-time (6 hours). You can divide your workday between synchronous and asynchronous work. The idea is that you can optimize your time and adapt your work schedule to your reality.

3️⃣ Are there any benefits related to physical activity?

If you live in Uruguay, we offer you free access to "Tu Pase". This is a platform where you can choose which fitness classes you want to attend, with options in a wide variety of gyms in Montevideo and different locations in Uruguay.

What do I have to do to join?
You sign up and Abstracta pays 100% of your membership fee.

📌Can I go with my partner or family member?
The platform only exists as a corporate benefit. If you want to extend the benefit to someone in your family, you can. We will note it down and withhold the amount of their fee from your payment.
4️⃣Do you offer me access to training and a career plan?

Yes, everyone who works at Abstracta has the possibility to study English, at INC or BIKE institutes. There are classes for all levels, in virtual and face-to-face modes. We deduct a fixed amount per month from your salary, which we return on a quarterly basis if your attendance is over 70%.

We also offer you free access to all Abstracta Academy training courses for you and your family. This benefit is maintained even for those who no longer work at Abstracta but have done so for at least 1 year.

We have a well-defined roadmap for you to know all your growth possibilities within Abstracta.

5️⃣How long does my vacation leave last?

We offer 20 working days of leave in all hiring modalities. They can be taken together or separately throughout the year, which translates to 1 full month. In addition, we grant Care Days and extra holidays.

6️⃣What are Care Days?

Beyond your leave and the corresponding holidays, we offer you 5 days which we call Care Days so that you can attend to what is important to you.

📌What kind of things can I use them for?
It's important that you can be where you need to be. We know that there are times when other things in life call you and it's good to be able to attend to them.
– Accompany family/friends in special moments.
– Personal errands.
– Medical consultations for physical and mental health issues.
– Time to dedicate to physical and mental health (extra rest for example).
– Birthdays or special dates.
– Rest or care on special dates such as holidays.
– Extra time for your academic training.

📌How far in advance do I have to give notice that I am going to use one of these Care Days?
If you can coordinate them in advance because you are going to take it for a birthday, great.
But these days are also to be used for those unforeseen situations that require your attention. In that case, you let your leader and People Care know so that it is recorded.

📌Do I need proof or a certificate?
No. If it's important to you, that's enough.

7️⃣What holidays do I count on?

In addition to the non-working holidays in Uruguay, we offer December 24 and January 31 as extra holidays. We know these are very special dates. That's why we want you to have the time to experience them in the best possible way.

8️⃣Which Health Insurance do I get?
If you live in Uruguay, we have an exclusive agreement with the American Insurance, 100% covered by Abstracta. If you wish, you can extend it to your family with a co-payment.
In case you choose another private health care provider, you will have a bonus. We have a very beneficial agreement with MP.
We know that these are very personal decisions and depend on many variables. That is why we believe in the importance of offering you the tools to make the best decision for you.
📌Do I have to pay anything to choose this?
No. Your premium will be covered 100% by Abstracta.

📌Can I not take the benefit if I'm not interested?
No problem. You can opt-out.

📌Is it only for people who work at Abstracta?
No. This benefit is extendable to your family. To stay under the agreement for Abstracta the payments are made by us, so their fees will be withheld from your payment.

📌I already have a private health care provider and I don't want to change, can the contributions be transferred to my provider?
No. Unfortunately, in that case, this benefit would not apply to you.

📌What happens if I stop working at Abstracta?
Both agreements guarantee your insurability at the health care provider. This means that if your relationship with Abstracta is terminated, you can remain a member without having to reapply. The cost becomes the regular cost of the providers.

📌Why is it important to guarantee insurability?
Private health insurance companies may or may not accept you. In order to be accepted, you have to fill in certain information. And in case you have a pre-existing condition, they may not accept you. In case something happens to you, once you are a member, everything is covered. That is why it is important not to interrupt your membership.

📌Why are there two options, which one is better?
Both are very good options. They have many things in common, but they also have advantages that may be more or less relevant depending on your situation. For example, if you live in the interior of Uruguay, the American Insurance has more coverage. If you want an option with no limit of consultations, MP has upgrade possibilities with two plans within the agreement to extend your coverage.

These are very personal decisions and depend on many variables. We believe in the importance of offering you the tools to make the best decision for you. And you have the support of representatives from both providers to guide you in this decision.

9️⃣ What maternity and paternity leave is available at Abstracta?

We support parental co-responsibility and generate a family-friendly environment in all hiring modalities, because we know that from work environments we can promote changes to integrate life and work, and improve our quality of life.

For this reason, our proposal adjusts to the different moments of life.

🔟Dependent or Provider (Service Provider). What will be my hiring modality?

You can choose. Each person has his or her own priorities. That's why we have different options so that you can customize the work proposal for what is important to you.

✔️Dependent Option

✔️Service provider option

Life, Accident, and Health Insurance for Freelancers:

Those who are in Service Provider mode and live in Uruguay are entitled to a personal Mapfre policy, covered by Abstracta.

📌Why is this important for Service Providers?
Uruguayan labor legislation is very comprehensive. And those who are not covered by BPS are in several cases less protected. For this reason, Abstracta together with Mapfre created a solution adaptable to the needs of each person.

📌What does adaptable mean?
Abstracta covers 100% of a policy. With the advice of financial coach Virginia Heguiz, you can adapt and complement it in order to design a savings and foresight strategy relevant to your goals and lifestyle.

📌What if I'm not interested?
We highly recommend accepting this benefit. Apart from covering you in many unforeseen situations, it guarantees your insurability in the future.

📌What happens if I stop working at Abstracta?
This benefit was designed to be a savings and foresight tool for each person. For this reason, the policies are personal. Once the employment relationship ends, the cost becomes your responsibility. You can keep it, change the form of payment, or drop it. We recommend that you get advice from Virginia before because there is a part of the invested capital that you can withdraw as a savings fund.

Do you have any questions? We are here to help you. You can ask me anything you need and share your concerns with me at [email protected]

Follow us on Linkedin, Twitter, Instagram, and Facebook to be part of our community!

Tags In
Vera Babat
Chief Culture Officer, Abstracta