Immersed in a globalized and deeply interconnected society, today some people can work for companies anywhere in the world. This has become more evident with the pandemic, which has generated unprecedented turmoil in the labor market, especially in IT.
By Vera Babat
The explosive growth of the sector and its vertiginousness have triggered many moves and proposals from companies that are innovative, seductive, and, frankly, somewhat desperate.
The implications and repercussions of many of them will be something we will be able to analyze in the future. In the meantime, we ask ourselves: Is it possible to enjoy true wellness if you have a great salary but the work environment is detrimental to your health, whether physical, mental, or social?
Our answer is no. That's why we put so much emphasis on culture and the work environment. Because work is a very important part of our daily lives. It is part of our life. If we want to live as more integrated beings, we must stop looking for work-life balance. And start looking for more humanized jobs.
Work greatly influences people's quality of life, their health, and their self-perception in the broadest sense. Why? Because the work environment organizes our day-to-day life and frames the way and the role from which we contribute to society.
But many times when we talk about job opportunities, the issue is simplified. Proposals are compared only in terms of salary and benefits, leaving aside other aspects that make us feel during the time we dedicate to it.
We all know stories of people who have decided to quit jobs that allowed them a life full of comforts because they couldn't enjoy them due to stress and consequent health problems. And many others who quit in search of spaces that pursue more inspiring life purposes, despite having high incomes and not being immersed in stressful work environments.
It is not fiction, it is something that happens. These are privileges of course for those who can choose. For those with technical training and good English skills, this is a reality.
"There is an increasingly intense war for talent in technology, this is known very closely by the companies that are in the chamber and by us, who are in the world of recruitment," emphasized Federico Muttoni, Director of Advice Consulting Uruguay, in a joint IT Labor Monitor in Uruguay, between the IT Observatory of the Uruguayan Chamber of Information Technology (CUTI) and the Human Resources consulting firm Advice.
"The competition for skilled and experienced people is no longer local or regional, but international," he continued. He added: "There is an explosive growth in the demand for digital skills. The supply of technical skills cannot keep pace with the labor demand, we do not have the number of people prepared worldwide."
This great power of decision that people working in this industry have today, due to the diversity and quantity of existing opportunities, can sometimes become confusing and generate noise, even distancing or making it difficult to focus on their day to day, because they are faced with messages that seek to seduce using a wide variety of resources.
When Looking for a Job, What do People Look for?
Surely, there are as many possible answers as there are people. Still, often the first answer is "money". Because we are always talking about paid work. And this is very important to remember: a fair salary that is competitive with the market and relevant benefits that take into account people's interests are basic elements.
But faced with the shortage of some profiles, many companies have done what my mother always told me would never happen: they knock on your door with a job offer.
This is technically called Hunting. Actually, it's Head Hunting. And it happens all the time. Hundreds of professionals go out looking for "IT talent". They go out like hunters in search of prey. Yes, prey that once they are hired are shown as trophies in their nets and become part of the "talent" group. The label is strong and assumes a number of conditions.
They are not treated as talented people but as "talents". They are considered "centerpieces" for the success of companies. That's why there are whole areas dedicated to managing them and as long as they remain "talents", they will be actively sought to retain them. I am left, however, with the question of what happens if at some point, for some reason, they are not as talented.
At Abstracta, we are on a quest to redefine the image of success. We have been testing ways of doing things that allow us to live increasingly integrated lives. We are actively seeking to generate environments where we can feel authentic and connected to what makes us good during the hours we spend at work.
We are a company where we co-build world-class software and also explore what makes us human. We like to think that we are creating a place where our curiosity and desire to learn and know are ignited. A place where we can bring creativity and ingenuity into play to innovate, and where we can share with others what drives us. To go further, together.
We are a company in constant growth, with a variety and diversity of projects in different parts of the world, with a special focus on the United States. And we are looking to expand our team permanently. But not at any cost.
We oppose labor hunting as a practice. For many reasons. But above all because we do not see people as talents, we do not want to "hunt" them as prey, nor do we want to retain them.
We know that there are a number of talented people who are committed to values similar to ours. We believe deeply in them: not only in their talent but in their desire to be part of a space in which they really want to grow and contribute. We want these people to choose us, and we work internally every day so that we can choose each other.
We want those who work with us to do so with real consent, from their desire to be part of a thriving ecosystem that takes care of each person individually, and recognizes that diversity is its strength.
Positions Always Open
At Abstracta we are always receiving CVs and incorporating new people into the company. Most of them are testers or software engineers, but we are open for the team to grow in all areas.
So, if you feel that there is something you can contribute, even if we don't have an open search, we will be happy to receive your proposal.
We recommend the following readings before applying:
✔️Do you want to work at Abstracta? Learn about the path to achieving it in this article.
✔️Click here to learn about our salary ranges for the different senioritis and roles.
✔️Check out all the benefits of working at Abstracta in this article.
✔️Are you interested in knowing what our OKRs 2022 are and what we project in the long term? Find out here.
We are a growing company! We are always looking for talented software quality people to join our team. If you would like to work with us, send us your CV to [email protected].
Follow us on Linkedin & Twitter to be part of our community!
Tags In
Related Posts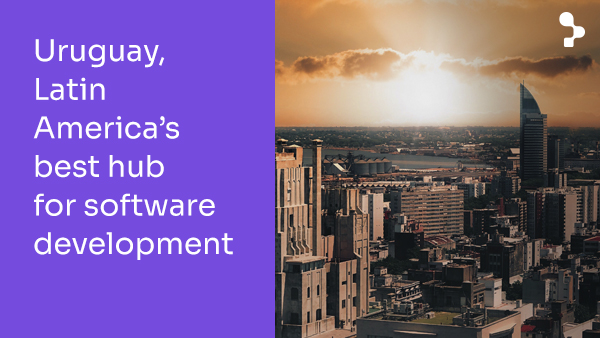 Uruguay, Latin America's best hub for software development
This small South American country of 3.4 million people is a global leader in software exports. With more than 1000 active software development companies, progressive politics, and amazing opportunities, Uruguay has earned international recognition.
Abstracta Uruguay's Salaries and Roadmap
How do we define our salaries and salary ranges within each role? We have a roadmap and we tell you all about it in this article! A transparent approach is the key to our company's development and growth. The value of being part of Abstracta…
Search
Categories
Read the Ultimate Guide to Continuous Testing