We care and encourage the growth and development of our testers individually and collectively, guided by warm, effective, and seasoned leaders at every step. Our team is always at the forefront of technology solutions, looking for ways to continually improve what we do and how we do it. This way, we manage to elevate your quality to new heights and push the boundaries of software testing.
Our team is made up of dedicated, skilled, and talented professionals who are passionate about continuous and lifelong learning. This is the key to our success: being humble with our knowledge, not believing that we know it all, and working hard to improve every day. This is, without a doubt, how we keep raising the bar.
With almost 15 years of experience and offices in North America, Latin America, and Europe, Abstracta is organized into 6 different internal departments: Operations, Sustainability, Growth, Innovation, Culture, and Marketing.

Our areas work together as a collaborative network, each with its own area of focus, in an interconnected environment where trust and autonomy are emphasized. We constantly strive to build a highly cohesive and loosely coupled team.
The operations department is responsible for overseeing all aspects of Abstracta's service and project delivery to its clients, ensuring smooth and efficient execution. This role is crucial to the company's success and growth, and it is the area in which testers evolve.
Alejandra Viglietti, Abstracta's COO, put it best, "When there are new opportunities, either with a new client or an existing client who needs a new assignment, Operations carries out the essential task to achieve the best match possible between the project requirements and the people who will carry it out." They consider multiple variables, from the requirements and context of the projects to the growth opportunities of the people as well as their personalities and skills.
The role of the Customer Success team, as part of the Growth department, is essential to a successful project. They attend to any information that could impact our testing strategy, enabling us to collaborate and plan with the technical team. This complements the strategy as it leads to the necessary adjustments and ensures the progress stays on track.
On this journey, we seek to empower our testers to lead their growth and reach their full potential. How do we do this? The all is larger than the sum of its parts. That is what Abstracta is all about… So we support them through constant guidance from technical experts and effective leaders, a committed People Care team (commonly known as Human Resources), a humanistic culture focused on mutual care, and continuous training.
Learn more about how we train our testers, how we deliver projects, and how all this adds value to the overall tester experience and to your business.
Guidance from More Seasoned Professionals
Our testers benefit from the permanent support and guidance of technical experts and skilled leaders. They are assigned to projects that make sense for them with their particularities and individualities, not only because of the value that they can add to it, but also because of the environment, the people, the learning, and the growing possibilities that they can experiment with through developing the project.
On the one hand, there's always someone with more technical experience who guides, mentors, and supports them, by reviewing their work and helping them brainstorm, design tests, plan, run tests, communicate results, and so on.

On the other hand, there are warm and effective leaders that stimulate and promote people's development to their full potential. They are available to enhance people's skills, help them to develop them further and provide guidance for all types of decisions. With a recognizable leadership style, people are guided by skilled and seasoned more experienced professionals to develop and support them throughout the decisions along the project.
The leader also helps to connect the testers with the rest of the Abstracta teams, acting as a link between the team working on the project and the different areas of the company, both for the more technical areas as well as for the others.
A Committed People Care Team
Our passion for delivering quality is driven by our commitment to a humanistic culture, which is a core aspect of the path to achieving our goals. This is our essential driving force: our strength and professionalism lie in our culture. That's why we have a dedicated Culture department, to foster and maintain a value-based culture that prioritizes the well-being and quality of life of our people.
What is commonly known elsewhere as human resources, under Abstracta's culture is referred to as people care. We understand that people are not resources or talents and in their humanity resides their value and uniqueness that cannot be replaced by AI.
This involves managing the hiring and onboarding process to bring the best-suited individuals onto our team, as well as providing opportunities for professional and personal growth for all Abstracta's members. We strive to offer a compelling value proposition, including a range of benefits and a positive work environment. For this, we are guiding a comprehensive approach to Nonviolent Communication to foster flexibility as well as other core skills that make living and working together better.
To achieve all this, we developed a roadmap to guide personal growth and full potential, and a salary calculator tool, Scale, to ensure competitive and fair pay without bias. In 2022, we made our salaries transparent. This approach provides clarity and is key for each person to feel recognized and valued in their role equally, know their growth opportunities, and see their contribution to our collective goals.
On a regular basis, People Care holds different spaces to improve and build a safe work environment. Currently, they are conducting training sessions where they share important perspectives on Nonviolent Communication and help people put them into practice.
The concept of a win-win situation is well known these days and makes work a meaningful and fulfilling experience. A global survey ranked having a meaningful job as the 13th most important factor contributing to happiness out of 29 sources. And this contributes to everyone.

When people feel pride and satisfaction in their workplace, they become more committed and motivated to achieve common goals. This is because they see themselves as part of something greater than themselves. We believe that when individuals feel well at work, it leads to increased productivity and improved services.
Skilled Professionals that Set Us Apart
What are the core character traits that we look for when hiring? What are some of the behaviors we try to teach our testers? Curiosity, creativity, willingness to learn on an ongoing basis, professionalism, honesty, and critical thinking. This is what makes our testers stand out from other companies.
Our critical and inquisitive approach to software testing sets us apart. We continually hone our skills and expand our knowledge to provide thorough and creative testing that allows us to make recommendations for improving quality and reliability.
We are agile and flexible in our testing approach, which means we can adapt our testing practices to your context, may it be Scrum, Kanban, or Waterfall. Furthermore, we leverage human intuition and creativity to uncover issues that may not be detected by automated testing methods.
Continuous Training
All of our testers (and their families) have free and continuous access to Abstracta Academy, our prestigious and renowned testing educational platform that has more than 1,000 graduates from all corners of the world.

It provides courses for beginners, which are very useful for people who are making a job reconversion, and advanced courses for senior testers and leaders, that encourage them to continue deepening their knowledge, improving their techniques, and developing their skills.
All the course's contents have been created by highly experienced testers, and experts in different areas, such as functional testing, automation, performance, mobile testing, accessibility testing, and more.
Currently, Abstracta Academy offers 13 public courses and 5 internal courses for Abstracta. And there are more on the way.
Abstracta becomes a stimulating community for our testers, who have free access to English lessons, provided by Learninc, and to several conferences, talks, and all kinds of rich exchanges with experts worldwide. So they are always up to date with the latest tech trends and on the cutting edge of the best practices in software testing.
In 2014, we published the first book in Spanish on software testing, which is used as a reference in several universities and academies in LATAM. Our greatest satisfaction with it is that we continue to receive thanks for the doors it has opened and for raising the level of the community. You can download it for free here.
Along our way, we take the opportunity to share knowledge and generate rich exchanges in the podcasts "Quality Sense" and "The Everything Else". In December 2022, we hosted the exclusive WOPR29 performance event in Uruguay, and in the same week, we founded the Quality Sense Conf to expand free access to knowledge and do our part to promote software quality.
All in all, we provide software testing services that add value at all stages of the Software Development Life Cycle. Throughout, we focus on quality to help organizations innovate with confidence. We combine technical excellence, global leadership, cutting-edge technology, humanistic culture, and a commitment to sustainability to empower our testers on a daily basis
As a result, we allow our customers to test smarter, deliver faster, and work better. We provide a comprehensive service that reduces costs and increases efficiency, through committed testers who push the boundaries of testing and expand businesses. All while enjoying the journey.
We are quality partners! Learn more about our solutions here and understand why we have received such praise. Contact us to discuss how we can help you grow your business.
Follow us on Linkedin & Twitter to be part of our community!

Tags In
Related Posts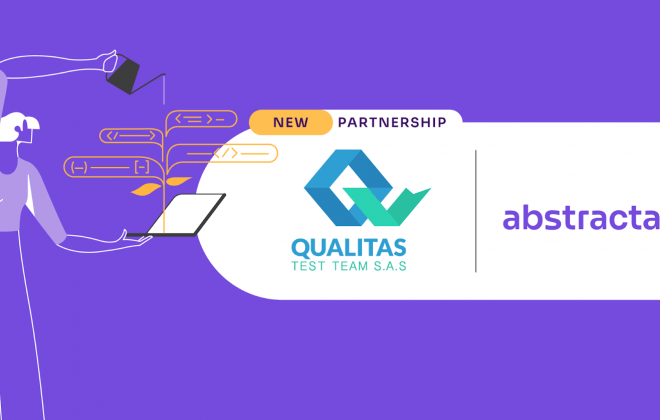 New Partnership Between Abstracta and Qualitas
We are proud to announce the beginning of a partnership between Abstracta and Qualitas, with the aim of promoting the development of quality software at a global level, in Colombia, the United States, Chile, and Uruguay. In a world where almost everything happens in digital…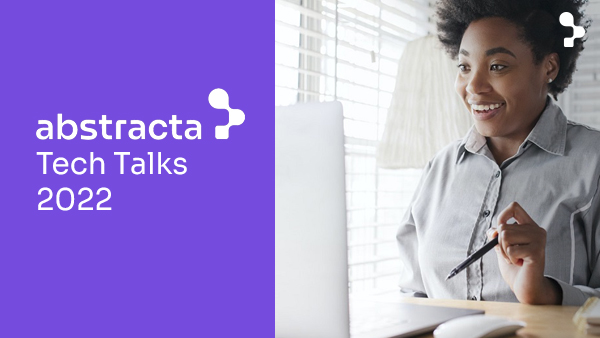 Abstracta Tech Talks 2022
The Abstracta Tech Talks are MeetUp's on software testing, best practices, and many other IT topics. These events invite us to share and connect.
Search
Categories
Read the Ultimate Guide to Continuous Testing